After tripling its North American revenue in 2022, the company builds its 5,000th robot in record time, launches three new innovative technologies, and makes strategic executive hires.
Today, Exotec, a global warehouse robotics provider, announced its continued rapid growth in North America as the company continues its global expansion. The business momentum is driven by the growing demand for warehouse automation.

"We continue to see a strong demand for scalable and proven warehouse robotic solutions," says Exotec CEO and Co-founder Romain Moulin. "Our track record of serving the world's largest brands positions Exotec to benefit from the explosive growth of the global warehouse robotics market, which is expected to reach $16 billion by 2031."
5,000th Robot and 16 Million Miles of Walking Prevented
In March 2023, Exotec reached the milestone of 5,000 robots built in record time - just three months after hitting the 4,000 robots milestone. The achievement is a testament to Exotec's rapidly growing manufacturing capabilities and the growing demand for the company's products. Exotec has already made significant strides in making warehouse jobs less physically demanding. To this day, Exotec robots have saved warehouse workers from having to walk at least 16 million miles. This is equivalent to going to the moon and back 33 times.
Continuous Innovation Through R&D
In 2023, Exotec is committed to continuing its strong track record of innovation by aggressively investing in R&D. Since its inception Exotec effectively doubled its R&D spend every year. In addition to investing a significant portion of the $446M raised to R&D, the company also commits 10% of all sales to go towards the development of new products. As of today, Exotec holds 26 granted patents with 68 patent applications still pending, almost 50% of all patents were filed during the last six months. The company recently expanded its product portfolio with three innovative solutions: a new conveyor solution, an improved robotic picking, and new proprietary warehouse software.
Skypath is a modular conveyor solution that can reach a maximum throughput of 2,700 totes per hour.
Skypicker is an intelligent picking solution for modern warehouses that features machine learning-based vision.
Deepsky is an end-to-end warehouse software that seamlessly integrates Exotec technology with most warehouse management and control systems as well as third-party automation equipment.
North American HQ and Growing Customer Base
In December 2022, Exotec officially opened its North American headquarters in Atlanta. The Atlanta office supports and facilitates Exotec's North American business growth, which is expected to represent as much as 40% of Exotec's global business by 2025. Since starting operations in North America, Exotec has signed 15 new partnerships with major organizations across retail, e-Commerce, and third-party logistics. The company currently has seven operating sites in North America, including Fortune 500 customers, just three years after expanding into the market. The company also recently announced that it hired industry veterans Andy Williams and Sid Henderson as Executive Vice President of Sales and Vice President of Business Development for the North American market. To date, Exotec employs around 55 professionals in North America and aims to double the headcount by 2024.
About Exotec
Exotec builds elegant goods-to-person warehouse robotic solutions for the world's largest brands. The company combines the best of hardware and software to offer flexible warehouse systems that drive operational efficiency, add resiliency, and improve working conditions for warehouse operators. 30+ industry-leading brands including Carrefour, Decathlon, Gap, and Uniqlo trust Exotec to improve their operations and profitably navigate rapid shifts in business models and customer expectations. Learn more at Exotec.com.
Featured Product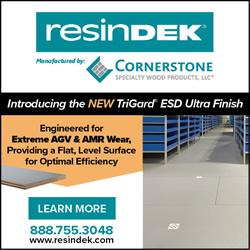 To maximize the productivity of an autonomous mobile robot (AMR) or automatic guided vehicle (AGV) deployment, it's critical to create the optimal environment that allows the vehicles to perform at their peak. For that reason, Cornerstone Specialty Wood Products, LLC® (www.resindek.com) created the TriGard® ESD Ultra finish for its ResinDek® engineered flooring panels. The TriGard ESD Ultra finish is ideal for high-traffic robotic applications characterized by highly repetitive movement patterns and defined travel paths.