Companies to sell underwater robotic systems combining VideoRay remotely operated vehicles and Sarcos Guardian® Sea Class system
Sarcos Technology and Robotics Corporation ("Sarcos") (NASDAQ: STRC and STRCW), a leader in the design, development and manufacture of advanced robotic systems that redefine human possibilities, and VideoRay, the world's leading manufacturer of underwater robotic systems, announced today that the companies have signed an agreement to offer integrated underwater robotic systems combining VideoRay remotely operated vehicles (ROVs) with the Sarcos Guardian® Sea Class robotic system including its power-efficient dexterous arms.

Under the terms of the agreement, Sarcos and VideoRay will each be able to sell an integrated underwater robotic system, as well as their respective individual products, and provide replacement parts and repair services and support.
"This collaboration is significant for the industry as it will enable Sarcos and VideoRay customers to easily purchase a pre-integrated system combining VideoRay's best-in-class remotely operated vehicles with our advanced one- or two-armed Sea Class system," said Kiva Allgood, president and CEO, Sarcos. "Through this relationship we aim to make it easy for customers to acquire and deploy complete underwater systems and we look forward to continuing working closely with VideoRay moving forward."
Sarcos Guardian Sea Class robotic system has a modular design that will easily integrate with VideoRay's lineup of one-person portable ROVs. VideoRay systems deliver exceptional power and maneuverability, enabling operations in currents up to four knots. In August 2022, VideoRay announced that the U.S. Navy had standardized on the use of the VideoRay Defender system and had placed a large order of the remotely operated vehicles, due to its superior capabilities, flexibility and upgradability.
The Guardian Sea Class system can be operated with one or two six-degree-of-freedom arms and performs in depths of up to one kilometer (1,000 meters) for up to two hours at a time. It can be teleoperated or operated via supervised autonomy. As the system is electronically driven, the Guardian Sea Class eliminates the added weight, size and expense of hydraulic power unit systems, lowers maintenance costs and reduces the risk of system downtime due to failure.
"VideoRay has designed our remotely operated vehicles to perform critical jobs in the harshest environments," said Chris Gibson, CEO, VideoRay. "Our ROVs are a natural fit with the Guardian Sea Class system and, when combined, we believe that the packaged solution offers the most advanced underwater inspection capability on the market today."
For inquiries, please email sales@sarcos.com or sales@videoray.com. For more information on Sarcos products, visit www.sarcos.com. For more information on VideoRay products, visit www.videoray.com.
About Sarcos Technology and Robotics Corporation
Sarcos Technology and Robotics Corporation (NASDAQ: STRC and STRCW) designs, develops, and manufactures a broad range of advanced mobile robotic systems that redefine human possibilities and are designed to enable the safest most productive workforce in the world. Sarcos robotic systems operate in challenging, unstructured, industrial environments and include teleoperated robotic systems, a powered robotic exoskeleton, and software solutions that enable task autonomy. For more information, please visit www.sarcos.com and connect with us on LinkedIn at www.linkedin.com/company/sarcos.
About VideoRay
Delivering its first ROV system in 2000, VideoRay now has annual revenue exceeding $30 million and is the world's leading manufacturer of underwater robotic systems. VideoRay Mission Specialist Systems have redefined the "inspection class" category. Built to work hard, they are rugged enough to be used around the world in demanding underwater missions to support national security, first responders, object search and recovery, infrastructure examination and science and research. To learn more about VideoRay, visit videoray.com or call +1 610-458-3000.
Featured Product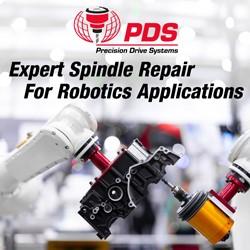 Precision components machined by CNC robot machining systems require compact, lightweight, and high-speed motorized spindles capable of delivering higher efficiency, performance, and reliability than those used in many other industries. That's why manufacturers of milling, cutting, trimming, grinding, polishing, and deburring trust Precision Drive Systems (PDS) to provide accurate and dependable spindle repair to perform to the most exacting standards.