The NSF's goal for the program is to drive discovery and learning in computing and communication foundations, computer and network systems, and information and intelligent systems.
CORVALLIS, Ore. - Researchers at Oregon State University are part of a $5 million National Science Foundation effort to accelerate robotics research by making standardized humanoid robots available to the scientific community.

Bill Smart and Naomi Fitter, who study human-robot interaction in the OSU College of Engineering, will lead the project, part of the NSF's Computer and Information Science and Engineering Community Research Infrastructure program.
The NSF's goal for the program is to drive discovery and learning in computing and communication foundations, computer and network systems, and information and intelligent systems.
The Oregon State investigators will partner with researchers at the University of Pennsylvania's GRASP Laboratory and a Los Angeles-based software company, Semio, that specializes in robotics applications.
The project involves building and distributing 50 Quori robots to serve as a standardized hardware and software platform for researchers. Quori robots have an expressive face, gesturing arms and a bowing spine and are designed for experimentation in the lab and also "in the wild," i.e. real-world types of settings.
"A big hurdle in robotics research has been the lack of a common robot to work with," Smart said. "It's tough to compare results and replicate and build on each other's work when everyone is using a different type of robot. Robots come in many shapes and sizes, with different types of sensors and varying capabilities."
Oregon State's primary contributions to the project will be setting up and maintaining a network of resources surrounding the use of the Quori robot and helping to beta test the robot and the resources.
"The team will build on the success of an earlier NSF-funded project by the University of Pennsylvania, Semio and the University of Southern California that designed, built and tested 10 prototype Quori robots and awarded them to research teams," Fitter said. "The current work will incorporate the lessons learned to improve the robot's design, making it easier to manufacture at scale, and to distribute it to a broader set of research groups."
Fitter and Smart say the project team will connect students and researchers using Quori through online collaboration tools, events and opportunities to work together - building a community of roboticists that can learn from one another and advance the pace of research.
"Part of the focus is bringing new teams into the community and helping them get up to speed by pairing them with more experienced researchers," Smart added. "This will increase the diversity of people involved in robotics research in the United States and accelerate progress, especially in the field of human-robot interaction."
-30-
About the OSU College of Engineering: The college is a global leader in health-related engineering, artificial intelligence, robotics, advanced manufacturing, clean water and energy, materials science, computing and resilient infrastructure. Among the nation's largest and most productive engineering programs, the college awards more bachelor's degrees in computer science than any other institution in the United States. The college ranks second nationally among land grant universities, and third among the nation's 94 public R1 universities, for percentage of tenured or tenure-track engineering faculty who are women.
On-campus TV and radio services: Oregon State University is equipped with on-campus television and radio studios/services that can be used by journalists. Live or live-to-tape broadcast television and radio interviews can be conducted using Vyvx, Zoom, Webex or Comrex (IP Audio). Oregon State staff can also gather b-roll and coordinate live-to-tape interviews on locations throughout campus. For radio, Oregon State's Comrex (IP Audio) provides a broadcast-quality audio feed.
Featured Product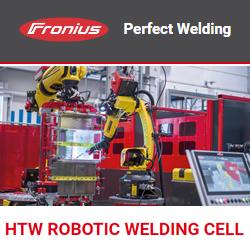 Modular, collaborative, and flexible: the "Handling-to-Welding" robotic welding cell joins parts of different geometries and materials. The task is carried out by two robots - the handling robot positions the workpieces, the second robot performs the welding. Depending on the cell configuration, lock gates are available for the inward and outward transport of parts. Furthermore, various positioners, a TCP measurement system, a torch cleaning system, a gripper station, and a contact tip change system are also possible.