Korea Association of Robot Industry 's the first national pavilion in the U.S.
The Korea Association of Robot Industry(KAR) has announced that it will be operating a "Korea Pavilion" at "AUTOMATE 2023". 9 Korean companies will feature their products in Korea Pavilion located in booth no. 3250 and 3452.

KAR has participated in many tradeshows held in Europe and East Asia for the decades, but it has never participated in AUTOMATE or any other tradeshows held in the US.
While China remains the largest market for Korean robot companies with exports worth of $319 million, The United States is the second-largest market with exports amounting to $204 million("Korean Robot Industry Survey 2021", 2022. 12).
According to Markets and Markets, demand for collaborative and industrial robots in North America is expected to grow due to the increasing aging and labor shortages in the existing workforce in the manufacturing sector. Growing demand for energy conservation, higher efficiency and productivity, and remote monitoring will drive the growth of automation, too. In response to the increasing demand for automation facilities and systems in the United States, some of the major Korean robot companies such as Hyundai Robotics, Doosan Robotics, Rainbow Robotics, and Neuromeka have opened offices in the country to expand their operations.
AUTOMATE, North America's Largest Automation Tradeshow, is attended by 600 companies, including major players such as ABB, FANUC, Kawasaki, KUKA and Universal Robots. The show has become a reliable platform for global companies in the automation and robotics industry to showcase their new technologies and exchange ideas, which makes it a perfect place for Korean companies to make their debut in North America.
A KAR official stated, "The North American market has been the market that Korean robot companies have been longing for, but individual small and medium-sized enterprises have faced many limitations despite various attempts. We hope to alleviate the difficulties of Korean SMEs and promote marketing for them to expand their channels to North American market. Korean products show high performances and are reasonably priced, which make them appealing to North-Americans who seek products with decent prices." He added, "We look forward to further exchange of technology and information with North America in robotics and automation industry for mutual goods. If there is any institutes or companies that would like to build a cooperative relationship with us, we are open."
To give a brief introduction on 9 companies in Korea Pavilion, COBOTSYS Co., Ltd., Neuromeka Co., Ltd. and Rainbow Robotics Inc. will feature collaborative robots used in manufacturing and Food & Beverage services. DOGU Co., Ltd. will show autonomous mobile robots for security while TWINNY Co., Ltd. will introduce autonomous mobile robot specially designed for order picking in logistics. HCNC will demonstrate integrated IT services to perform robot-based automation. RS Automation Co., Ltd. will show PC-based multi-function controller and servo drive for factory automation. TAEHA CORPORATION will demonstrate auto-dispensing system and equipment.
Featured Product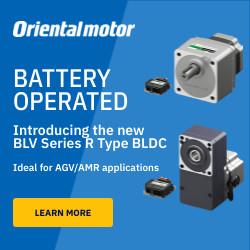 The BLV Series R Type brushless DC motor (BLDC motor) speed control system offers the design of motor and driver significantly reduced in size and weight, yet high-power, and contributes to the battery driven automation. The BLV Series R Type is compatible with the two interfaces of Modbus (RTU) and CANopen communication.