Fabricators Can Use The Teach-By-Touch OB7 Stretch Blaze With Their Existing Welder At Half The Cost Of Other Systems
SANTA BARBARA, California (May 16, 2023) Demand for robotic welding is expanding as fabricators seek to achieve consistent, high quality welds and faster throughput. Productive Robotics' new Blaze Welding Cobot can be used with a customer's existing table, fixtures and welder at half the cost of other systems on the market. Unlike 6-axis robots, the 7-axis Blaze Welding Cobot can maneuver around all sides of large or complex parts and fixtures, allowing it to perform more weldments in a single setup. Blaze is engineered with Productive Robotics' proprietary teach-by-touch and equipped to accommodate high or low mix volumes, short or long part runs or jobs that require quick changeovers.

"We developed and built Blaze from the ground up using our augmented intelligent OB7 Stretch model because most job shops and contract manufacturers already have welders and welding tables," says Zac Bogart, president of Productive Robotics. "With Blaze, they don't have to buy a whole system again. To date we've developed Blaze packages that are compatible with welders from eight major brands including Lincoln and Miller."
Blaze has a 1550 mm/61-in. radius operating sphere and requires no new fixturing. The Blaze tablet controller can hold an unlimited library of weld recipes, giving the operator command of all welding parameters including material type, voltage, wire feed, weld speed and gas flow.
A new employee or experienced welder simply uses the cobot's control handle to physically teach Blaze to weld without programming. The collaborative cobot works safely next to its human co-workers. Live online support is provided by seasoned welding and robotic experts.
For manufactures that need a complete welding system, Productive Robotics introduced its all-in-one Blaze Duo and Blaze LF automated welders at IMTS in 2022. The two-station and single-station welding systems are also run by the augmented intelligent teach-by-touch OB7 Stretch cobot. The Blaze LF has an 8 ft. long table designed for extra-large parts and setups. Productive Robotics designs and produces its line of collaborative cobots in the U.S.
Productive Robotics LLC designs and manufactures industrial collaborative robots and accessories for a wide range of markets. Productive Robotics' augmented intelligent machines—the OB7, OB7 Stretch model, MAX 8 and MAX 12—are the only cobots on the market designed and built in the U.S. A proprietary, "no programming" user interface allows fabricators and job shops to teach the cobot by simply showing it each step of a task or job. The plug-and-play machines are engineered to work with new or legacy equipment and have the flexibility to perform both simple and complex activities. Productive Robotics' cloud analytics system streamlines connectivity requirements for nimble data collection and reporting. Installation for the kitted OB7 cobots is simple and quick, and can be performed whether an application calls for repetitive part work, tending a CNC machine or manning a lights out operation.
Visit www.productiverobotics.com or call (805) 244-9300.
Featured Product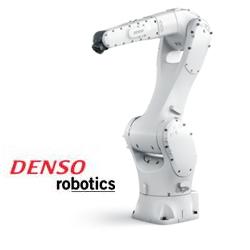 The new VMB series represent some of the newest members to our 6-axis family of robots. These high-performance, versatile units offer a longer arm reach and a higher load capacity than traditional models which make VMB an excellent solution for palletizing, packaging, and material handling. New features include greater air piping, valve and signal line options, as well as new programming options with state-of-the-art functions using our new WINCAPS Plus software. VMB offers an IP67 protection grade along with meeting ISO Class 5, which makes them suitable for electric parts, food manufacturing processes, and pharmaceutical and medical devices. With the addition of the new VMB large robots, all manufacturing processes can now be automated by DENSO Robotics.