First Look at 25KG Capacity, Built-in Vision and AI Technology – Improved Safety, Speed, Precision
Techman Robot is proud to announce the launch and first opportunity to see the TM AI Cobot TM25S. This revolutionary 25kg payload collaborative robot (Cobot) joins TM Robot's already impressive lineup and the TM AI Cobot S Series. These innovative cobots set new benchmarks in the industry with their remarkable features and capabilities - the TM25S will be showcased for the first time at Automate 2023 in Detroit, Michigan, USA, from May 22-25, 2023.

Best in Class Robot Payload, Reach and Flexibility
The TM AI Cobot S Series boasts an impressive highest payload capacity of 25kg in the TM25S model - making it the ultimate choice for a wide range of industrial applications. With the longest reach in the 25kg payload cobot market (over 190cm), the TM25S offers unparalleled flexibility and adaptability in various working environments.
One of the standout features of the TM AI Cobot S Series is its built-in vision system and AI technology. This powerful combination enables the cobot to perform tasks with exceptional precision and efficiency. From machine tool material push stack operations, to assembly tasks in the automobile industry, a TM AI Cobot S Series is the ideal working companion, ensuring seamless integration with existing processes, and enhanced productivity.
TM AI Cobot S: Enhanced Speed, Precision, and Safety
Techman Robot's engineers worked tirelessly to bring significant performance improvements to the TM AI Cobot S Series. Enhanced motor speed has increased cycle time by 25%, to complete tasks even faster. Compared to older products, these cobots achieve a remarkable 70% improvement in repeatability in certain models, with precision reaching an impressive 0.03 mm. These enhancements are a major leap forward in industrial automation.
Safety is always a top priority in robotic systems, and the TM AI Cobot S Series is no exception. The control box has been significantly upgraded to an IP54 rating, for increased protection against dust and water. Furthermore, the cobot has obtained up to 31 PL=d and Category 3 Safety Function certification from TÜV, ensuring the highest level of safety for operators and surrounding equipment. It has also passed international safety certifications, including ISO 13849-1 and ISO 10218-1, along with regional safety certifications such as UL and CSA for North America, and CE for Europe.
Intuitive New TMflow 2 Software for Complete Control
In addition to the TM AI Cobot S Series, Techman Robot is introducing the TMflow 2 Series, a comprehensive software solution designed to make robotic programming and operation safer, easier, and smarter. This intuitive software enhances the user experience, simplifying complex tasks and reducing programming time. Thanks to seamless integration with the TM AI Cobot S Series, the TMflow 2 Series allows for unprecedented control and customization, empowering businesses to unlock their full potential with automation.
At Automate 2023, Techman Robot invites industry professionals, automation enthusiasts, and technology pioneers to witness the unveiling of the TM AI Cobot S Series and experience its groundbreaking capabilities firsthand. The TM AI Cobot S Series, along with TMflow 2 software, represents a significant milestone in the evolution of automation, bringing innovative solutions to address the evolving needs of modern industries.
For more information about the TM AI Cobot S Series and other cutting-edge robotic solutions, please visit http://www.tm-robot.com.
Featured Product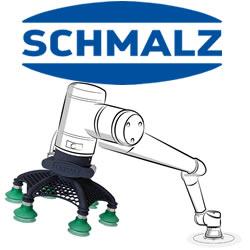 In order to interact with their environment and perform the tasks, lightweight robots, like all industrial robots, depend on tools - and in many cases these are vacuum grippers. These form the interface to the workpiece and are therefore a decisive part of the overall system. With their help, the robots can pick up, move, position, process, sort, stack and deposit a wide variety of goods and components. Vacuum gripping systems allow particularly gentle handling of workpieces, a compact and space-saving system design and gripping from above. Precisely because the object does not have to be gripped, the vacuum suction cupenables gapless positioning next to each other.