Innomaint has recently published a FREE EBook on Enterprise Asset Management which is a guide to comprehensive asset management with modern technology.
Any business house that flourishes is asset-centric. Asset Management has been viewed for long as a tedious and complicated process when done in-house. It is no more so. Thanks to the digital revolution that empowered leading businesses to optimize assets to extract the best business value. It connects various business stakeholders, such as Operation manager, maintenance supervisors, technicians, asset users, etc. via a unified digital pipeline for better collaboration on work orders for a seamless flow of core business operations.

Enterprise Asset Management software simplifies keeping track of fixed, moving, or loaner assets. Employees will know the exact location of assets without difficulties and the interdependencies among the assets. It is important for quick defect resolution and ensuring maintenance doesn't paralyze production.
An EAM software provides unique preventive, predictive, and corrective maintenance workflows. With automation of these maintenance strategies, one can achieve high levels of operational efficiency, consistency in asset performance and witness a significant reduction in asset procurement, maintenance, and utility expenses. And be able to make sound data-driven asset management decisions.
Go through InnoMaint's Free E-book to know:
i) If need an EAM
ii) Difference between CMMS & EAM
iii) How to manage assets end-to-end
iv) Full range benefits of an EAM
iv) Best practices on asset management
v) Breaking innovations of IoT in asset management
vi) Untapped avenues for cost saving
Download the Ebook here https://www.innomaint.com/ebook/enterprise-asset-management-strategy/
Featured Product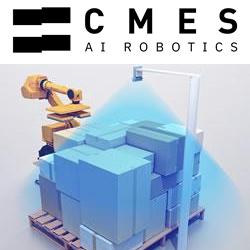 Powered by AI, CMES Robotics enables 3D vision for factory robots. CMES AI vision software enables robots to recognize unstructured, flexible, or deformed objects, pick them up, and loading and unloading. CMES Vision software has been deployed worldwide for random palletization and depalletization along with void filling applications. CMES Robotics automates your warehouse, logistics, and supply chain. For more information, please visit: cmesrobotics.com or email info@cmesrobotics.com.