Technanosoft's revolutionary salesforce integration strategy changed the way companies operated. Its innovative technology and well-developed marketing channels can drive successful business growth.
United States, 29-05-2023 - Technanosoft, a leading provider of innovative software solutions, is proud to announce its groundbreaking Salesforce integration strategy. It is poised to revolutionize how businesses streamline operations and optimize customer relationship management.

In an increasingly competitive landscape, businesses worldwide constantly seek ways to enhance theirhttps://prfree.org/ effhttps://prfree.org/iciency, boost productivity, and elevate customer experiences. Technanosoft's Salesforce integration platform is to empower organizations with a comprehensive solution that integrates seamlessly with their existing ecosystem.
With 8 years of experience in software development and a deep understanding of the challenges businesses face today, Technanosoft has leveraged cutting-edge technologies and industry expertise to develop a game-changing Salesforce integration strategy.
Key Features and Benefits:
Streamlined Data Flow: Technanosoft's integration strategy enables businesses to seamlessly synchronize their data across multiple systems, ensuring a unified and up-to-date view of customer information, sales pipelines, and performance metrics.
Enhanced Efficiency: By automating data transfer processes and eliminating manual data entry, Technanosoft's strategy significantly reduces administrative overhead, enabling businesses to focus on core operations and strategic initiatives.
Customizable Solutions: Recognizing the unique requirements of each organization, Technanosoft offers customizable integration solutions that can be tailored to align with specific business needs and workflows. From customer data enrichment to sales process automation, the possibilities are endless.
Real-Time Insights: With real-time data synchronization, businesses gain instant access to critical information, enabling agile decision-making, proactive customer engagement, and rapid response to market dynamics.
Seamless Collaboration: Technanosoft's integration strategy fosters collaboration by breaking down data silos and enabling cross-functional teams to work cohesively, ensuring a consistent customer experience.
Scalability and Future-Proofing: As businesses evolve and grow, Technanosoft's integration strategy scales effortlessly, accommodating increasing data volumes, additional systems, and emerging technologies, ensuring long-term value and adaptability.
"Technanosoft's Salesforce integration patterns are the result of our relentless commitment to driving digital transformation and empowering businesses to thrive in the digital age," said Harsh Kumar, CEO of Technanosoft. "We believe that by unlocking the full potential of Salesforce through seamless integration, organizations can unlock unparalleled growth opportunities, elevate customer experiences, and achieve sustainable success."
To learn more about Technanosoft's revolutionary Salesforce integration services and how they can transform your business, visit https://technanosoft.com or contact 360-605-0427.
About Technanosoft:
Technanosoft is a globally recognized software solutions provider specializing in delivering cutting-edge technology and transformative digital solutions to businesses of all sizes. With a customer-centric approach, they empower organizations across industries to unlock their full potential, achieve operational excellence, and drive sustainable growth.
Featured Product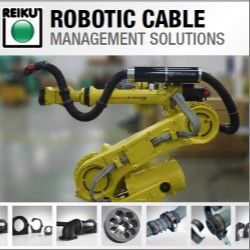 REIKU's Cable Saver™ Solution eliminates downtime, loss of revenue, expensive cable and hose replacement costs, maintenance labor costs. It's available in three sizes 36, 52 and 70 mm. All of the robots cables and hoses are protected when routed through the Cable Saver™ corrugated tubing.The Cable Saver™ uses a spring retraction system housed inside the Energy Tube™ to keep this service loop out of harms way in safe location at the rear of the Robot when not required. The Cable Saver™ is a COMPLETE solution for any make or model of robot. It installs quickly-on either side of the robot and has been tested to resist over 15 million repetitive cycles. REIKU is committed to providing the most modular, effective options for ensuring your robotic components operate without downtime due to cable management. www.CableSaver.com