150 + Best-in-class organizations have confirmed their support from six continents
Organizers of Geo Week, the premier conference and trade show focused on the increasing convergence of geospatial and built world technologies, have announced an impressive list of more than 150 Supporting Partners that are backing the 2024 event. Geo Week will take place February 11-13, 2024, and will gather thousands of professionals in Denver.

"Leading industry organizations from around the globe have pledged their support for Geo Week in record numbers this year, recognizing it as the premier event for increased integration between the built environment, advanced airborne and terrestrial technologies, and commercial 3D technologies," said Lee Corkhill, Group Director at Diversified Communications, organizer of the event. "We're thrilled that the most influential organizations in the global geospatial and built world industries choose Geo Week as a valued partner, and by working collectively we continue to advance the industry, gathering geospatial professionals together to learn how technologies can help us understand the world around us, create more efficient workflows, and aide in decision-making based on real-world data."
"Leading industry organizations from around the globe have pledged their support for Geo Week in record numbers this year, recognizing it as the premier event for increased integration between the built environment, advanced airborne and terrestrial technologies, and commercial 3D technologies."
Geo Week Supporting Partners are comprised of global trade media, portals, associations, user groups, cooperating events, government entities, and non-profits, including:
PUBLICATIONS
AEC Magazine
American Surveyor
AT Journal
Aviation Report
Black EOE Journal
Civil Engineering Surveyor
CICES Construction Law Review
CICES Geospatial Engineering
CIO Applications
CIO Coverage
CIO Insights
CIO Review
BIGNieuws
CODE Magazine
Comm Construction/Renovation
Construction Business Review
Construction Review
Construction Tech Review
constructionHQ
Coordinates
Crisis Response Journal
Develop3D
Diversity In STEAM
Earth Imaging Journal
energyHQ
Engineering Report
Engineers Outlook
Enterprise Viewpoint
GEO Informatics
GeoConnexion
Geospatial World
GIM International
GIS Resources
Government CIO Outlook
Hispanic Network
ICON Outlook
Informed Infrastructure
Innotech Today
IOT Report
Media 7
GPS World
Professional Womens Magazine
ResTech Today
LIDAR Magazine
StartUp City
The Women Leaders
Uncrewed Systems Technology
US Veterans
xyHt
PORTALS
AEC Café
AltEnergyMag
BigDataVendors
Bylt.News
ChiefIT ME
Clocate
Commercial UAV News
ConstructAfrica
ConstructionLinks
Dawn Of Drones Podcast
Connect News
DrasticNews
DroneExpos
Electronics Valley
Geo Insight
GeoJobs
Geo-matching
Geosearch
Geospatial1 News
GeoWeek News
GISGeography
GISuser.com
Global Security Mag
GoGeomatics
GIS Café
IOTGlobalNetwork
IOTNow
Lidar News
Manufacturing Tomorrow
MySecurity Media
Geospatial Solutions
Queue
Reality Capture Network
Robotics Tomorrow
SE-E
Sensorland
Smart Cities Tech
Spatial Times
Surveying Group
Uncrewed Views
We Get Around Network
Women In Tech Review
ASSOCIATIONS
AmericaView
Canada Telecoms
CIAT
CICES
Digital Twin Consortium
Geospatial World COC
GetKidsIntoSurveying
GIS Colorado
Ipv6 Forum
ISPRS
Laser Scanning Forum
Mountain West UAS
NAICP
Open Geo Consortium
Reality Capture Experts
STACouncil
The AREA
UCGIS
USGIF
Utilities Imagery/Inspection
VR AR Assoc - Denver
VR AR Association
WGIC
Glass Ceiling Institute
WITI
Women In BIM
Women Who Code
ANALYSTS
BIS Research
Geospatial World Consulting
HAPTIC R&D Consulting
Nexus 3D
Parks
P3 Tech Consulting
TMG Consulting
COOPERATING EVENTS
Digital Twin Consortium Quarterly
Geobuiz
GeoBIM
Geospatial World Forum
GoGeomaticsExpo
GeoIgnite
ISPRS Congress
Reality Capture Network Summit
Smart Geo Expo
STAC
Geoint
WITI Summit
SPECIAL PROMOTIONAL PARTNERS
AP Planner
BIM Community
BuildingSmart
Canadian Mining Journal
Colorado Inno
ConstructionShows
Contxto
DataFloq
Energy Central
Federal Labs Consortium
Geowawesomeness
GISLounge
Govevents
Information-Age
IOTEvents
Mining Engineering
Slash Data
Spatialsource.com.au
Position Magazine
TechRadar.pro
Telco Professionals
VR/AR Assoc Events
World Construction Today
More than 3,000 professionals are expected to gather for Geo Week 2024, as technology innovation continues to boom. The exhibit hall is expected to sell out with more than 200 solutions providers for the second year in a row and will display best-in-class solutions, allowing attendees to source the latest geospatial and built world innovations while networking with vendors and attendees.
Full event information, including workshops, conference programming, networking events, the Geo Week Awards Celebration, and more will be available soon. Registration for the 2024 event will open in October - stay in the know.
About Geo Week
Geo Week, presented by Geo Weeks News, was created in response to the changing needs of built world and geospatial professionals, and to acknowledge the increasing convergence of technology. Geo Week's conference program and tradeshow floor feature commercial applications of 3D technologies, innovations and case studies in the built environment, advanced airborne and terrestrial remote sensing solutions, smart products for a full project team and much more. Event Partners include ASPRS, ISPRS, MAPPS, USIBD and WGIC. Geo Week takes place February 11-13, 2024, at Colorado Convention Center, Denver, CO. For more information, visit https://www.geo-week.com/.
Geo Week is produced by Diversified Communications' technology portfolio which also includes Commercial UAV News; Geo Week, Geo Week Newsletter, 3D Technology Newsletter, AEC Innovations Newsletter, Geo Business (UK) and Digital Construction Week (UK).
For more information about exhibiting at the Geo Week, visit the Exhibitor Information page or contact Casey Reynolds Sales Manager, at creynolds@divcom.com or (207) 842-5624. For attendee inquiries, visit the Attendee Inquiry page or email info@geo-week.com
Featured Product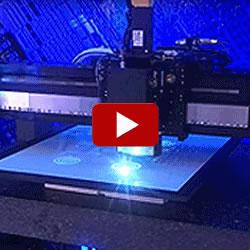 A traditional gantry system employs X-Y or X-Y-Z range of motion. Mounted on a base plate, usually granite, 2 parallel rails constitute the synchronized Y axis motion while the cross axis (bridge axis) provides the X motion. A vertical axis can be added on the bridge for the Z motion. A Split Bridge system can be less complex than a traditional gantry system because synchronization of the two parallel linear motors is not required. Both systems are used in industrial production, testing, and additive manufacturing.