North America's largest robotics and automation trade show will be held in Chicago's McCormick Place
Registration is open for Automate 2024—the largest robotics and automation trade show in North America—the Association for Advancing Automation (A3) announced today. The Automate Show, May 6-9, 2024, will be a historic one—held at Chicago's renowned McCormick Place and expected to be 25% larger than the previous record in Detroit in 2023.

Automate delivers the latest automation technology from more than 750 leading exhibitors—from cutting-edge robotics and motion control to vision and artificial intelligence innovations—for a wide variety of industries and applications. Attendees can also take part in inspirational keynote sessions and theater presentations. Show registration is free for anyone 12 years of age or older, including those who work directly with automation to those who are simply interested in learning more.
In conjunction with the free show, the paid Automate Conference will feature more than 100 talks from the world's top industry experts. Conference attendees can also attend professional certification courses in machine vision and motion control.
After a hugely successful 2023 show and unprecedented demand, A3 announced the Automate Show will now be annual, starting with the 2024 show in Chicago and followed by the 2025 Detroit show, May 12-15.
"Automation now touches every aspect of our lives, and its prevalence was evident at Automate 2023 in May—our largest show to date," said Jeff Burnstein, president of A3. "From C-level executives at manufacturing companies to healthcare and foodservice professionals to e-commerce and logistics companies—everyone is looking to leverage cutting-edge robotics, vision, AI and related automation technologies to stay competitive, bolster their bottom line and even attract and retain talent."
The Only Automation Show for All Industries and Applications
Professionals in all industries will notice their industry-specific trade shows are becoming technologically driven, with increasing numbers of AI, robotics and general automation on display. But Automate is the only show where attendees will see the most cutting-edge solutions first—for every application and industry. This offers a unique benefit that no other show can match.
"Technology is changing and proliferating at such a rapid pace that it's impossible to stay on the leading edge when you're looking only through the lens of a single segment or application," said Burnstein. "That's why attendees love Automate—they not only see the absolute latest innovations, but they also get a 30,000-foot view of how things are evolving across the board."
Check back at the Automate Show site for ongoing updates about keynote sessions, exhibitors and the Automate Conference agenda.
About The Association for Advancing Automation (A3)
The Association for Advancing Automation (A3) is the leading global advocate for the benefits of automating. A3 promotes automation technologies and ideas that transform the way business is done. Members of A3 represent more than 1,200 automation manufacturers, component suppliers, system integrators, end users, academic institutions, research groups and consulting firms that drive automation forward worldwide.
A3 hosts a number of industry-leading events, including the International Robot Safety Conference (October 9-11, 2023, Pittsburgh, PA); the AI & Smart Automation Conference (October 10-11, 2023, Pittsburgh, PA); the A3 Business Forum (January 15-17, 2024, Orlando, FL); Automate (May 6-9, 2024 in Chicago, IL); and the Autonomous Mobile Robots & Logistics Conference (October 8-10, 2024, Memphis, TN).
Featured Product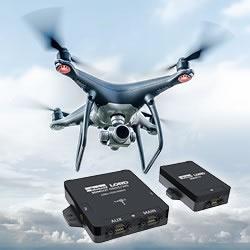 The new complete inertial navigation solution comes with GNSS/INS 3DMGQ7 sensor, 3DMRTK correction modem and real time SensorCloud RTK correction network. The sensor comes with Dual antenna GNSS, tactical grade IMU with centimeter-level accuracy with RTK. Low profile and light weight at 78 grams, this sensor is The sensor is optimized for size and weight in Unmanned Ground Vehicles, mobile robots and autonomous vehicles. The network interface 3DMRTK modem is seamlessly integrated into the 3DMGQ7 sensor supports industry-standard NMEA and RTCM 3.1 protocols. The network RTK support comes with cellular data plan. The SensorCloud RTK is a cloud-based RTK correction system with private encrypted data stream. Check out our G Series and C Series OEM products.