FANUC's easy-to-use CRX-25iA welding cobot, which now offers a 30kg payload and 1,889mm reach, will demonstrate welding joints on a mower deck. Attendees can teach points using hand guidance or the Tablet TP interface with drag and drop icons. See FANUC at FABTECH in Booth B-27015.
FANUC America, a world leader in CNCs, robotics, and ROBOMACHINEs will demonstrate the industry's latest automation technologies for welding and coating at FABTECH 2023, Sept. 11-14 in Chicago. See FANUC's CNC and robotic welding demonstrations in booth B-27015 and automated solutions for painting and coating in booth D-40523.

Easy to Use CRX Cobots for Welding
FANUC's collaborative robots are easy to use and flexible solutions for companies looking to improve productivity and solve labor issues. FANUC's entire series of CRX collaborative robots are reliable, flexible, and designed for eight years without maintenance. Easy-to-use interactive programming allows operators to teach points using hand guidance or a Tablet TP with drag and drop icons. In addition, all FANUC CRX welding cobots support FANUC's advanced features including iRVision®, Touch Sensing, Servo Torch, Thru Arc Seam Tracking (TAST and Multi Pass (MP).
At FABTECH, see a wide range of FANUC's reliable cobot welders:
The CRX-25iA welding cobot, which now offers a 30kg payload and 1,889mm reach, will demonstrate welding joints on a mower deck. Attendees can teach points using hand guidance or the Tablet TP interface with drag and drop icons.
A FANUC CRX-10iA/L welding cobot with a long 1418mm reach will showcase live aluminum arc welding with the FANUC Servo Torch. Attendees will be able to teach weld joints using hand guidance or the Tablet TP with drag and drop icons. The demonstration will include FANUC's advanced aluminum MIG weld process control demonstrating low frequency pulse and heat wave, utilizing a Lincoln Electric PowerWave R450 weld power supply.
Lincoln Electric's Cooper™ mobile welding cart featuring FANUC's CRX-10iA/L will offer attendees a hands-on experience programming with the Cooper App. The Cooper robotic welding system is easy to program and use with the intuitive FANUC Tablet TP and the ability to teach at the torch by hand. Lincoln Electric's Power Wave R450 robotic welding platform provides the same industry-leading performance found in traditional robotic welding.
An APT ModWeld Cobot MAC Cart featuring FANUC's CRX-10iA and a Miller Auto-Continuum 350 offers a modular solution that can be easily expanded. Visitors will have a hands-on experience programming with the APT Clever Torch teach buttons.
FANUC CRX-10iA Assembly with the Power Motion i-Model A
A CRX-10iA with the Power Motion i-Model A (PMi-A) will simulate brake rotor assembly. The PMi-A moves parts into position for the CRX, presses a simulated rivet into the part, and performs quality inspection of the rivet press. The demonstration shows the versatility of the CRX cobot combined with the PMi-A, a high-performance and scalable general motion control supporting applications that require one to 32 axes.
The PMi-A, which offers CNC-style motion control for automated assembly and other applications, integrates seamlessly into virtually any production system using ethernet connection for easy communication between robots and machines. Users who trust FANUC's reliable control and servo technology along with overall support for machine tools, can expect the same performance and value in general purpose motion control.
Additional demonstrations in FANUC's main booth include:
Intelligent Software and Factory Automation Solutions
High-Speed Spot Welding
Flexible Multi-Arm Welding
High-Accuracy M-800iA/60 Robot with LS2Di-A Laser Scanner
FANUC ROBODRILL Plus Vertical Machining Center
See FANUC's Automated Solutions for Painting and Coating at FABTECH in Booth D-40523
See FANUC's paint-specific robot lineup (all designed and built in the US since 1982), and several robotic coating applications using vision guidance and coordinated motion, including:
FANUC's P-40iA paint robot uses iRVision 3DV and a new software feature called Visual Tracking for PaintTool
A second P-40iA paint robot will demonstrate painting a wooden guitar body using coordinated motion
A Paint Mate 200iA robot uses iRVision 3DV and FANUC's new Visual Tracking for PaintTool software to identify and define the orientation of an auger and paint it.
Also, a FANUC CRX-10iA collaborative robot will utilize a BYK-mac i end of arm tool to measure and collect color data on painted test panels. This automated process can help manufacturers determine if the final color meets their specifications. While cobots have not traditionally been used for automotive coating, the demonstration illustrates how companies can use cobots for paint inspection.
FANUC experts will participate in several conference sessions at FABTECH. For more information visit https://www.fabtechexpo.com/conference.
About FANUC America Corporation
FANUC America Corporation is a subsidiary of FANUC CORPORATION in Japan, and provides industry-leading CNC systems, robotics and ROBOMACHINEs. FANUC's innovative technologies and proven expertise help manufacturers in the Americas maximize productivity, reliability and profitability.
FANUC America is headquartered at 3900 W. Hamlin Road, Rochester Hills, MI 48309, and has facilities throughout North and South America. For more information, please call: 888-FANUC-US (888-326-8287) or visit our website: www.fanucamerica.com. Also, connect with us on YouTube, Twitter, Facebook, LinkedIn and Instagram.
Featured Product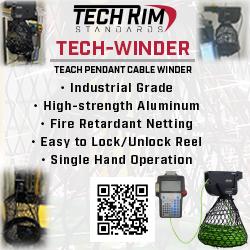 Tech-Winder is a robust solution for industrial cord management. Aluminum body, for hard impact protection. Flame retardant netting, for added protection against any sparks that may land on the cord. This industrial grade cord reel keeps your pendant cords protected and organized. Stores up to 50 meters (164 ft.) of cable in length with a diameter of 4.5 mm to 10.0 mm. Adapts to NAAMS or Modular Fencing when mounting. Help prevent your next $1,200 factory cable incident, by getting organized with Tech-Winder from Tech Rim Standards.