PF consultants is offering free CMMS installations to selected partners. The company wants to expand its product features and market reach by working with clients that run advanced technological and automated operations. The partners will get free consultancy, support and other benefits. The number of available spots is limited. Interested parties can apply on the product website.
PF consultants, the company behind the Computerized Maintenance Management System package "comma CMMS", first launched in 2013, have put out a call for partnerships to the wide manufacturing and equipment maintenance world where full-featured installations of their flagship product are provided free-of-charge to clients that run reference operations such as plants with high levels of industrial automation looking to extend efficiencies to the equipment maintenance arena.

Rui Alves, Technical Director at PF Consultants, stated during the presentation that "We put this call out there with the hope that we can prove ourselves into innovative, markets so that new ideas and technical implementations can be added to our CMMS products in the future. In exchange, we work together with these partners, for free, to implement the best solution possible as we know that if the implementation is successful, other clients in the same market will soon join in".
The general conditions are listed on the product website and revolve around applications that are technologically advanced where sensor or machinery logs can be aggregated, parsed and saved to generate automatic maintenance actions. Interested parties are invited to contact PF Consultants to discuss the potentially mutually beneficial partnership using the form on their website. Note that free application consultancy, free support and other valuable add-ons are all included in the offer all adding up to a substantial value.
At the end of the presentation, Rui Alves added that "We're excited to see what will come out of this idea; we think that we will get some very interesting and "cool" applications very soon. Slots are limited so contact us as soon as possible."
Comma CMMS is a solution aimed at SMEs that require a robust maintenance management tool to improve the safety and availability of their production assets.
Featured Product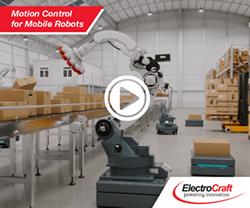 ElectroCraft is showcasing its award-winning mobile robot technology including their powerful and compact wheel drives, high-torque-density brushless DC motors, precision linear actuators as well as servo motor drive technology at a variety of conferences and tradeshows including the Boston Robotics Summit. Robotics Summit is the premier symposium for the sharing of ideas, technology, and market developments for robotic technologies across industries. Beyond a showcase and pitch of product, ElectroCraft is eager to participate in the collaborative discussion of challenges and opportunities that will shape the near and long-term robotic marketplace.