Industrial education robot, powered by ABB's OmniCore controller, includes the latest advancements in robotics such as energy-saving power grid feedback solutions
ABB Robotics is expanding its education offering with the launch of the IRB 1090. The 1090 industrial education robot, authenticated by the globally recognized education institute STEM.org, is designed to upskill students and provide them with a competitive advantage in securing employment. The new education robot forms a key part of ABB's wider education offering, which includes additional industrial robots, as well as education packages, next generation controllers and market leading programming and simulation software.

"ABB's 2023 global survey of 2,301 education professionals found that 80 percent believe robots and automation will shape the future of employment over the next ten years," said Craig McDonnell, Managing Director, Business Line Industries for ABB Robotics. "However, only one in four education establishments currently use robots in teaching programs. As the world's largest industrial robotics manufacturer, we're determined to play our part in making robots available to all and the IRB 1090 education robot forms a key part of this commitment, enabling us to serve the growing demand for industrial robots in the education space."
ABB's IRB 1090 offers a reach of 580mm and a 3.5kg payload and, coupled with a ten percent smaller footprint and 20 percent reduction in weight compared to its predecessor, provides the ability to easily move, install and place in a facility. The education robot coupled with ABB's OmniCoreTM E10 ultra slim controller, brings increasing functionalities to enable students to hone their skills on the latest robotic advancements including motion control, TrueMove, QuickMove, Externally Guided Motion, and energy-saving power grid feedback solutions.
Students using the robot and controller will also learn how robotic automation can be deployed across different sectors and applications. Educational institutions, robot resellers, and system integrators can design and customize a variety of application cells, such as assembly, material handling, arc welding and dispensing. This may include different accessories such as vision cameras, grippers, working pieces, pedestals, and moveable carts to meet specific requirements.
As part of ABB's commitment to making robots available to all, 100 free RobotStudio® premium licenses are included with the purchase of the IRB 1090 robot. RobotStudio® is a virtual tool that students can use to learn the fundamentals of robot programming, even before buying a physical robot.
ABB works with educational institutions in over 40 countries to help students learn the fundamentals of robot programming, as well as educating over 30,000 students from schools, colleges, and universities worldwide, each year.
For further information, visit our IRB 1090 education robot and robotics in education webpages.
1 ABB global education survey.
ABB (ABBN: SIX Swiss Ex) ABB is a technology leader in electrification and automation, enabling a more sustainable and resource-efficient future. The company's solutions connect engineering know-how and software to optimize how things are manufactured, moved, powered and operated. Building on more than 130 years of excellence, ABB's ~105,000 employees are committed to driving innovations that accelerate industrial transformation.
ABB Robotics & Discrete Automation as one of the world's leading robotics and machine automation suppliers, is the only company with a comprehensive and integrated portfolio covering robots, Autonomous Mobile Robots and machine automation solutions, designed and orchestrated by our value-creating software. We help companies of all sizes and sectors - from automotive to electronics and logistics - become more resilient, flexible and efficient. ABB Robotics & Discrete Automation supports customers in the transition towards the connected and collaborative factory of the future. The business area employs approximately 11,000 people at over 100 locations in approximately 53 countries. go.abb/robotics
Featured Product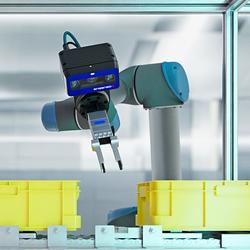 Combining the ease of use of a webcam with the performance and reliability of an industrial camera? The uEye XC autofocus camera from IDS Imaging Development Systems proves that this is possible. Its high-resolution imaging, simple setup and adaptability make it an invaluable tool for improving quality control and streamlining workflows in industrial settings - especially for cases where users would normally employ a webcam. The uEye XC autofocus camera features a 13 MP onsemi sensor and supports two different protocols: USB3 Vision, which enables programmability and customization, and UVC (USB Video Class). The UVC functionality enables a single cable connection for easy setup and commissioning, while delivering high-resolution images and video. This makes the uEye XC camera an ideal option for applications that require quick setup and need to manage variable object distances. Additional features such as digital zoom, automatic white balance and color correction ensure precise detail capture, which is essential for quality control.