Max Moruzzi, CEO of intelligent automation startup Xaba, to shed light on how robots that think will reshape the factory floor, delivering more efficient and economical production
TORONTO - Why are the vast majority of robots, cobots and robotic applications falling short in the manufacturing sector? Because even though they've been designed with great mechanical bodies — effectively replicating, mechanizing and automating routine actions typically carried out by humans — they lack one essential ingredient: a brain.

That's the message of Massimiliano (Max) Moruzzi, CEO of intelligent automation startup Xaba. With the latest Gartner report on AI indicating that 85% of all AI projects fail to deliver, Moruzzi will share his perspective on why harnessing the full potential of robotics, machines, and AI has proven to be such a formidable challenge at the upcoming Canadian Manufacturing Technology Show (CMTS), Canada's national manufacturing event, taking place this year at its new venue, the Toronto Congress Centre, from September 25-28.
What's needed instead, suggests Moruzzi, is a new breed of intelligent autonomous robots that not only understand the context and easily switch between tasks, but also think for themselves, extracting meaningful data on the fly to suggest new ways of working.
Moruzzi's keynote, entitled Shaping Tomorrow's Industry: Canada's Odyssey with Industrial AI will take place on September 25 at 9:00 a.m.
In his presentation, Moruzzi will explain how the emerging field of industrial AI - intelligent robots that leverage synthetic brains to perform industrial-grade processes that are high quality, safe, consistent, scalable and conform to key performance indicators (KPIs) - is different from existing AI solutions.
"It's not about deep learning, predictive analytics and computer vision. This is an end zone presentation where you'll see this new wave of industrial AI that's coming, and the impact of working with a machine that can talk to you and use its own knowledge to help solve the business challenges you face," said Moruzzi. "All of a sudden, your shop floor becomes a cluster of knowledge, not just to help you with a particular throughput problem, but also to help you understand how you've positioned yourself versus a rapidly changing market."
At CMTS, Moruzzi will demonstrate how his company's AI platform is disrupting vehicle manufacturing by enabling a fully functional car chassis to be created using a robotic system that understands the properties of carbon fibre and is capable of calculating and controlling the material's variables on its own. He will also outline the tremendous value of industrial AI compared to previous iterations of robotic systems in the North American manufacturing sector.
"We fragmented the technology so much that robots today are inefficient," he said, explaining how the average entry-level robot today costs roughly $70,000, with another $350,000 to $400,000 investment required to program it for each new task it performs. Once powered with industrial AI software, however, those same commercial robots are capable of performing multiple tasks — such as welding, drilling, assembling and additive manufacturing. This provides an instant return on investment (ROI) by eliminating the necessity for extra programming expenses and time-consuming, laborious trial-and-error efforts.
Moruzzi applauds Canada for taking a lead role in creating the right landscape for industrial AI to thrive by supporting innovative startups as well as technology hubs such as the Vector Institute and strongly believes that the next wave of robotics augmented by AI-powered intelligence is poised to create a vast, untapped market opportunity for corporations of all sizes.
"At the end of the day, Canada is de-risking industrial AI for the manufacturing sector," he said, urging businesses that may remain hesitant to adopt automation due to the significant cost barriers to revisit the technology. "Intelligent robots are finally going to unlock the potential of automation that's been promised for years, and my message to manufacturers is it's time to commit to a new way of doing things."
Launched in 2022, Toronto-based Xaba is a pioneer and leader in applying industrial AI to enable a world of intelligent and sustainable manufacturing. The company's intellectual property turns any robot into a 'generative robot' capable of writing its own programs and executing multiple tasks.
Featuring the latest equipment and technology advancements in machine tools, tooling, metalworking, automation, robotics, additive manufacturing, and digital transformation, CMTS 2023 is expected to draw more than 8,000 visitors from across Canada in all areas of the industry, including automotive, aerospace, energy, government, commercial, industrial, and oil and gas. The show will present 50+ sessions, 200+ new products, 500+ suppliers & OEMs, and more than one million pounds of live equipment on 250,000+ sq. ft. of floor space.
In addition to technology exhibits, live equipment demonstrations, keynote presentations, thought leadership panels, multiple networking hubs, and Smart Theatre sessions, CMTS 2023 will include an Emerging Innovators Showcase powered by MaRS and NGen, Canadian Tooling and Machining Association (CTMA) Tooling Pavilion, CWB-EWI Welding Showcase, SME Bright Minds Student Summit, and a Project Arrow display as the Automotive Parts Manufacturer's Association (APMA) annual conference (September 26) is co-located with CMTS 2023.
CMTS 2023 is presented by SME, with strategic event partners including Canadian Machine Tool Distributors' Association (CMTDA), Canadian Tooling and Machining Association (CTMA), CWB-EWI Group, and Automotive Parts Manufacturer's Association (APMA).
About SME
Established in 1932 as a nonprofit organization, SME represents the entire North American manufacturing industry, including manufacturers, academia, professionals, students, and the communities in which they operate. Together we share one common belief: Manufacturing holds the key to economic growth and prosperity. SME accelerates new technology adoption and inspires and builds North America's talent and capabilities in order to advance manufacturing as a diverse, thriving and valued ecosystem that drives competitiveness, resiliency and national security. We believe in technology's power and humanity's innovation to advance our society and meet many national challenges. We design new ways to understand and solve problems, and our solutions advance the next wave of innovation and growth. SME's Learn more at SME.org, or follow SME on X/Twitter, LinkedIn, Facebook and Instagram.  
Featured Product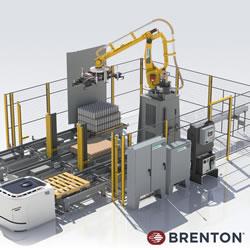 Brenton is a leader in robotic solutions with standard product offerings including palletizing and depalletizing for efficient an option for carrying hard-to-handle products, as well as larger scale systems with an optimized footprint; and case and carton loading solutions for numerous industries. In addition, Brenton works with customers on integrated solutions, offering robotics in a broad spectrum of robotics to fully integrate end of line systems. Brenton helps packaging customers protect their reputation and grow the trust of their consumers.