Hosted by the Association for Advancing Automation (A3), the long-running event explores key issues in robot safety with an in-depth overview of best practices and current industry standards
ANN ARBOR, MI - September 25, 2023. Safety is critical to any robot deployment, so manufacturers, integrators and users alike can learn the basics or enhance their knowledge at the International Robot Safety Conference in Pittsburgh October 9-11. Hosted by the Association for Advancing Automation (A3) for 35 years, the event will offer expert advice, the latest technologies, and in-depth overviews on robot safety standards. Registration is open at https://www.automate.org/events/international-robot-safety-conference-2023

"Robot safety has always been of upmost importance for A3 and the industry overall, but with more robots in use in more industries than ever before, the need for comprehensive robot safety knowledge has never been greater," said Jeff Burnstein, president of A3. "For more than three decades, the International Robot Safety Conference has been focused on providing this knowledge, all in one location, from some of the biggest companies in robotics. If next month's conference is anything like last years, we expect many new attendees to join us as they learn what they need to know to ensure their organizations are safe now and long into the future."
Educational sessions highlight best practices, the latest on robot safety standards
The International Robot Safety Conference agenda features educational sessions and panels from 40+ robot safety professionals representing companies such as FANUC, Honda, Procter & Gamble, Rockwell, SICK and Universal Robots. Highlights include:
• "Getting Started with Robot Safety," a panel with Claude Dinsmoor of FANUC America Corporation; Mark Lewandowski of Procter & Gamble; Roberta Nelson Shea of Universal Robots, and Todd Dickey of Honda Development & Manufacturing of America
• "Robot Safety - A Global View," a panel with Otto Görnemann of SICK AG; Sungsoo Rhim of Kyung Hee University, and Timothy Castillejos Martinez of Euchner
The event also includes sessions focused specifically on the latest in robot safety standards addressing conventional, collaborative and mobile robots. The most recent standard update is part 2 of the new mobile robot safety standard (R15.08), available for purchase at the show, with established safety requirements for deploying industrial mobile robots (IMR) systems into an industrial environment. Chris Soranno of SICK will share this update in his session: "Mobile Robot Safety: The New RI5.08.- Part 2.
The other standards sessions include:
• "The Updated 10218: What to Look for in the New Standard and the Future Roadmap," with Universal Robot's Shea, one of the recipients for the 2023 Engelberger Award for her contribution to robot safety.
• "An Introduction to Industrial Robot Safety ISO 10218 - Parts 1 and 2 (R15.06) with Honda's Dickey
• "How To Use R15.08 Annex C," with P&G's Lewandowski
Pittsburgh Robotics Network pledges "commitment to prioritizing safety in robotics"
"The intersection of robotics and safety is of the utmost importance due to the growing need for robots to seamlessly interact with and support humans," said Jenn Apicella, interim executive director, Pittsburgh Robotics Network. "Within our robotics ecosystem, our businesses have been recognized leaders in addressing this pivotal requirement for safety across diverse industry applications. We welcome this valuable conference to Pittsburgh. Pittsburgh stands as a globally recognized leader for robotics, automation, and AI. Hosting the International Robot Safety Conference in our thriving hub of innovation underscores our continued partnership with A3 and our unwavering commitment to prioritizing safety in robotics."
The International Robot Safety Conference is co-located in Pittsburgh with the AI & Smart Automation Conference, designed to give manufacturers and others all they need to know about data strategy, advances in AI robotics and machine vision, and AI-powered optimization and prediction.
About Association for Advancing Automation (A3)
The Association for Advancing Automation (A3) is the leading global advocate for the benefits of automating. A3 promotes automation technologies and ideas that transform the way business is done. Members of A3 represent nearly 1200 manufacturers, component suppliers, system integrators, end users, academic institutions, research groups and consulting firms that drive automation forward worldwide.
A3 hosts a number of industry-leading events, including Automate 2024 (May 6-9, 2024, in Chicago); the International Robot Safety Conference 2023 (October 9-11, Pittsburgh, Pennsylvania); AI & Smart Automation Conference 2023(October 10-11, 2023, Pittsburgh, Pennsylvania); A3 Business Forum (January 15-17, 2024, Orlando, Florida) and the Autonomous Mobile Robot & Logistics Conference (October 8-10, 2024, Memphis, Tennessee)
Featured Product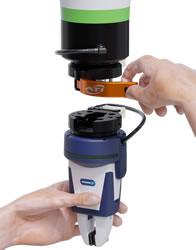 Simpler, stronger, and more precise. ATI Industrial Automation has developed a series of Manual Tool Changers that provides a cost-effective solution for quickly changing tools by hand. They feature a unique design that combines high strength, excellent repeatability, and a patent-pending screw-cam locking mechanism with multiple fail-safe features, which resists vibration and prevents loosening. These robust and compact Manual Tool Changers can handle payloads up to 80 pounds (36 kg) and pass pneumatics and electrical signals.