AI-based release of 3D simulation software FASTSUITE E2 takes robot simulation and programming to new level
Stuttgart, November 16, 2023 - CENIT's innovative FASTSUITE E2 release 2023.2 features 28 new functions and enhancements as well as three major highlights: Automated AI-based path optimization, automated seam searches plus efficient planning of welding operations via the Weld Cockpit. Together, these features make FASTSUITE E2 a key tool for process optimization and cost effectiveness in robot welding applications.

Release 2023.2 of the 3D simulation software FASTSUITE E2 is the next big step in CENIT's approach to promoting sustainable digitalization in industrial manufacturing. The upgrade features 28 high-performance tech innovations for simulation and programming. CENIT's developers leverage AI-based functions to support manufacturing processes and boost efficiency, resource economy and quality in production.
"In this stage of our journey to autonomous offline programming, we have implemented a wide range of new features that deliver automatic optimization effects and significantly accelerate offline programming. They virtually eliminate time-consuming, manual fine-tuning of manufacturing operations", says Jens Fetzer, Vice President Product Strategy, CENIT AG.
The new release focuses on three specific new technology bundles:
• Efficient planning of welding paths
• AI-based offline programming (OLP) and automatic path optimization
• Sensor functions for seam identification and seam tracing
Image: Automated path optimization using FASTSUITE E2
Offline Programming (OLP) with automated path optimization:
This feature offers manufacturing businesses a leg up in "autonomous programming" of robot welding operations. The function relies on AI algorithms to automatically generate robot paths and analyze them to identify issues like collisions, axis limits, singularities, etc. The algorithm then searches for optimal solutions and automatically generates error-free programs. No more time-intensive manual correction and reprogramming efforts.
The new features not only save time and money, they also boost productivity: Optimized paths mean that the robots move more smoothly and efficiently during their welding operations, which shortens overall cycle times.
"Depending on the complexity of the components, businesses that introduce autonomous offline programming and path optimization can reduce their programming times by 50 to 80%", Jens Fetzer explains.
Automatic seam identification and tracing
This function is again aimed at enhancing entire workflows: Simulation and programming plus seam identification and seam tracing functions enable automated generation and optimization of robot welding paths. The robot programs are able to self-adjust so as to account for geometry deviations within the components and tacking arrangements, again reducing the need for manual reworking of the robot cell.
"In real-world welding applications, workpieces often vary slightly in terms of dimensions and position tolerance, especially when the components are tacked manually. Because FASTSUITE helps the robot adapt to these deviations, we achieve highly reliable welding results and avoid manual intervention", says Fetzer.
Image: Weld Cockpit functions in FASTSUITE E2
The Weld Cockpit
This function enables precise and consistent planning of welding processes and ensures reliable, replicable results. The "Weld Cockpit" lets the user insert welding symbols to define the intended welding path, or transfer a welding path directly from a 3D master model. It also supports standardized transfer of tooling information from production drawings to OLP processes.
"The Weld Cockpit lets us translate the complex world of offline programming into the "language" familiar to the welding experts", Jens Fetzer explains.
Standardization and the use of recognized welding symbols and standards make the Cockpit a valuable aid in ensuring consistency and reliability. Automated parameter assignment produces uniform results and better quality because it largely eliminates human misinterpretation of welding symbols, errors in welding path definition and incorrect assignment of process parameters.
In upcoming FASTSUITE E2 releases, CENIT will take the next steps on its course toward autonomous programming and the goal of maximizing the benefits of industrial robots.
About FASTUITE E2
FASTSUITE E2 is an acclaimed software suite designed for the digital factory. Based on the digital twin concept, it enables precision simulation and programming of industrial robots and machines in a virtual 3D environment and promotes sustainable digitalization across the production landscape. Seamless integration with PLM (product lifecycle management) processes permits efficient, loss-free production as well as sustainable digitalization and automation in manufacturing environments.
Featured Product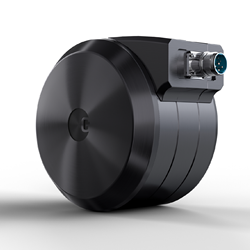 Welcome to the next generation of robotics and machinery. LiveDrive LDD is a unique direct drive motor that overcomes almost every limitation of servo geared solutions. A 50% reduction in length from typical geared motor is possible with Genesis direct drive motors. Choose to simplify machine designs and have a shorter footprint while having high performance, accuracy, and efficiency.