The Factory-in-a-Day Project
From Factory-in-a-Day's page:
Small and medium-sized enterprises in Europe mostly refrain from using advanced robot technology. The EU-project Factory-in-a-Day aims to change this by developing a robotic system that can be set up and made operational in 24 hours and is flexible, leasable and cheap. The project has a budget of 11 million euros for four years, 7.9 million of which will be funded by the European Union as part of the FP7 programme 'Factory of the Future'. The international consortium comprises 16 partners and the coordinating university is Delft University of Technology (TU Delft). The project will start on 8 October 2013 with a formal kick- off meeting in Delft.
Within 24 hours
The Factory-in-a-Day-project will provide a solution to these problems: a robot that can be set up and operational in 24 hours. SME companies can use the robot for a specific job and their staff can learn how to work closely together with the robot and thus optimize their production. "With the technological and organizational innovations of the Factory-in-a-Day project, we hope to fundamentally change the ways in which robots are used in the manufacturing world", says project coordinator Martijn Wisse, Associate Professor at TU Delft. How does it work?
What will such an installation day look like? First of all, before the robot is actually taken to the SME premises, a system integrator analyzes which steps in the process can be taken over by the robot. In most cases the repetitive work is done by the robot while the human worker carries out the more flexible, accurate tasks and deals with problem- solving.
Customer-specific hardware-components are 3D-printed and installed on the grippers of the robot. The robot is then brought to the factory and set up, and any auxiliary components such as cameras are also set up in the unaltered production facilities. The robot will be connected to the machinery software through a brand-independent software system. After that, the robot is taught how to perform his set of tasks, for example how to grasp an object. Therefore, the operator will physically interact with the robot. A set of predefined skills will be available, rather like Apps for smart phones. Finally, the robot is operational and the human co-workers receive their training -- all in just 24 hours.
Comments (0)
This post does not have any comments. Be the first to leave a comment below.
---
Post A Comment
You must be logged in before you can post a comment. Login now.
Featured Product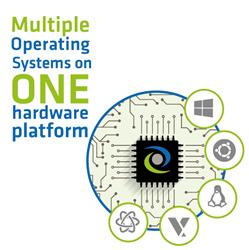 The RTS Hypervisor enables work-load consolidation of both real-time and non-real-time operating systems on a single x86 based platform. Unlike traditional virtualization, we partition and allocate the hardware for each work-load and provide a "privileged" mode for real-time operating systems that guarantee zero impact to determinism while adding zero jitter. This is instrumental for work-loads such as robotic controllers managing motion control where minimum jitter is required. And, our hypervisor is designed for easy setup and configuration for any work-load consolidation scenario. This equates to deterministic real-time applications taking advantage of all the benefits of virtualization immediately, without costly implementation projects.