Intel camera gives robots 3D vision
Bot-maker Savioke announces an open-source wrapper for Intel's RealSense Camera, adding another low-cost 3D sensing solution to the roboticist's toolkit.
The wrapper will allow developers to make use of the RealSense Camera, which enables robots to sense rich three-dimensional environments. "Intel RealSense Cameras bring great low-cost depth sensing to robotics, in a platform that is widely available and easy to integrate using ROS," says Steve Cousins, CEO of Savioke.
Until recently, bot makers looking to incorporate 3D sensing on the cheap have relied on a sensor made by Israeli company PrimeSense. But in late 2013 PrimeSense was acquired by Apple for $350M, an indication of just how much potential the Cupertino-based giant sees in 3D sensing technology.
Since the acquisition, robot developers have been eager for a flexible and cheap depth sensor. Intel, meanwhile, is making an aggressive move into the world of robotics, and the company was thrilled to offer ROS support for RealSense.
Comments (0)
This post does not have any comments. Be the first to leave a comment below.
---
Post A Comment
You must be logged in before you can post a comment. Login now.
Featured Product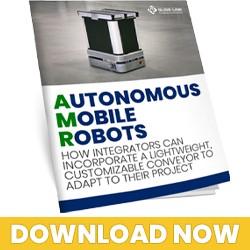 This eBook covers Glide-Line's conveyor attachments built specifically for AMRs. We go through the many variables that integrators are looking for in a cost-efficient AMR conveyor design, like: - lightweight, yet powerful - high flexibility & configurable -durability & dependability - DC-driven. At Glide-Line we solve problems that other conveyor manufacturers won't: simplicity - easy to maintain,flexible configurability, creating an efficient, hassle-free customer experience - customizations are normal to meet your needs.