WowWee brings expensive university bots to store shelves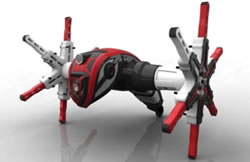 By Corinne Iozzio for Scientific American: Hong Kong–based WowWee's success stems from bringing university research projects to life that might otherwise languish in the prototype stage. A licensing agreement with the Flow Control and Coordinated Robotics Labs at the University of California, San Diego, for example, provides WowWee with access to patents and the labs with a healthy cash infusion. The collaboration has already netted a series of toy robots that balance like Segways. More recently, the avionics lab at Concordia University in Montreal began working with the company to perfect flight algorithms for a four-rotor drone. Next, chief technology officer Davin Sufer says he has his eye on the Georgia Institute of Technology and its work with swarming behaviors, which would allow a group of robots to function in tandem.
In the case of Switchbot, WowWee adapted a locomotion system developed in part by former U.C. San Diego student Nick Morozovsky. The robot moves on tank-tread legs either horizontally to navigate uneven terrain or on end to stand and scoot fully upright. Morozovsky built his prototype with off-the-shelf parts, including a set of $50 motors. The motors were a compromise; each one had the size and torque he wanted but not the speed. Over the past few years he has worked with WowWee to customize a motor with the exact parameters needed and to cut the final cost of the part down to single digits.
That back and forth yields low-cost, mass-producible parts, which means university-level robotics could become available to everyday people. "One of the reasons I went into mechanical engineering was so I could create real things that have a direct impact," Morozovsky says. "I didn't expect that to necessarily happen in the process of grad school." Cont'd...
Comments (0)
This post does not have any comments. Be the first to leave a comment below.
---
Post A Comment
You must be logged in before you can post a comment. Login now.
Featured Product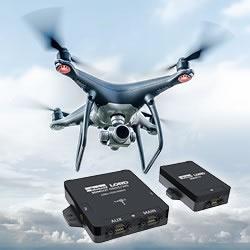 The new complete inertial navigation solution comes with GNSS/INS 3DMGQ7 sensor, 3DMRTK correction modem and real time SensorCloud RTK correction network. The sensor comes with Dual antenna GNSS, tactical grade IMU with centimeter-level accuracy with RTK. Low profile and light weight at 78 grams, this sensor is The sensor is optimized for size and weight in Unmanned Ground Vehicles, mobile robots and autonomous vehicles. The network interface 3DMRTK modem is seamlessly integrated into the 3DMGQ7 sensor supports industry-standard NMEA and RTCM 3.1 protocols. The network RTK support comes with cellular data plan. The SensorCloud RTK is a cloud-based RTK correction system with private encrypted data stream. Check out our G Series and C Series OEM products.