Six-axis robotic arm called Eva, which weighs 2.3 kilograms and will cost $3,000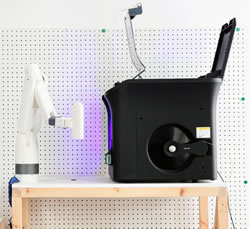 Suryansh Chandra claims the affordable robotic arm his company Automata is developing could lead to robots becoming as ubiquitous as desktop 3D printers.
"Today, every design studio has a 3D printer," Chandra says. "Soon, we hope to get to the point where every design studio has a robotic arm."
Chandra founded Automata together with Mostafa Elsayed five months ago, after they became frustrated by the expense and complexity of industrial robots while working at the research division at Zaha Hadid Architects.
"If you're out to get a robot today, you'd have to spend 50 or 60 thousand dollars," Chandra explains. "Our goal is to democratise robotics through a low cost hardware platform and easy to use software."
Automata's first product is a plastic six-axis robotic arm called Eva, which weighs 2.3 kilograms and will cost $3,000 (£2,000).
"Unlike industrial robots that are heavy and expensive, Eva is low cost and lightweight," Chandra says. "She can pick up 750 grams when fully outstretched and about a kilogram in a more recessed position." Cont'd...
Comments (0)
This post does not have any comments. Be the first to leave a comment below.
---
Post A Comment
You must be logged in before you can post a comment. Login now.
Featured Product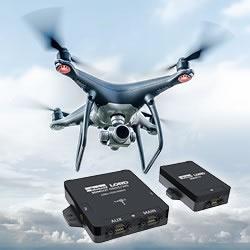 The new complete inertial navigation solution comes with GNSS/INS 3DMGQ7 sensor, 3DMRTK correction modem and real time SensorCloud RTK correction network. The sensor comes with Dual antenna GNSS, tactical grade IMU with centimeter-level accuracy with RTK. Low profile and light weight at 78 grams, this sensor is The sensor is optimized for size and weight in Unmanned Ground Vehicles, mobile robots and autonomous vehicles. The network interface 3DMRTK modem is seamlessly integrated into the 3DMGQ7 sensor supports industry-standard NMEA and RTCM 3.1 protocols. The network RTK support comes with cellular data plan. The SensorCloud RTK is a cloud-based RTK correction system with private encrypted data stream. Check out our G Series and C Series OEM products.