Face2Face: Real-time Face Capture and Reenactment of RGB Videos
From Justus Thies, Michael Zollhöfer, Marc Stamminger, Christian Theobalt and Matthias Nießner:
We present a novel approach for real-time facial reenactment of a monocular target video sequence (e.g., Youtube video). The source sequence is also a monocular video stream, captured live with a commodity webcam. Our goal is to animate the facial expressions of the target video by a source actor and re-render the manipulated output video in a photo-realistic fashion. To this end, we first address the under-constrained problem of facial identity recovery from monocular video by non-rigid model-based bundling. At run time, we track facial expressions of both source and target video using a dense photometric consistency measure. Reenactment is then achieved by fast and efficient deformation transfer between source and target. The mouth interior that best matches the re-targeted expression is retrieved from the target sequence and warped to produce an accurate fit. Finally, we convincingly re-render the synthesized target face on top of the corresponding video stream such that it seamlessly blends with the real-world illumination... (full paper)
Comments (0)
This post does not have any comments. Be the first to leave a comment below.
---
Post A Comment
You must be logged in before you can post a comment. Login now.
Featured Product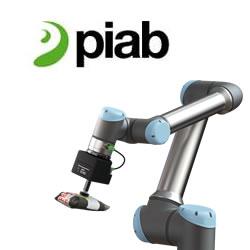 Piab's Kenos KCS gripper enables a collaborative robot to handle just about anything at any time. Combining Piab's proprietary air-driven COAX vacuum technology with an easily replaceable technical foam that molds itself around any surface or shape, the gripper can be used to safely grip, lift and handle any object. Standard interface (ISO) adapters enable the whole unit to be attached to any cobot type on the market with a body made in a lightweight 3D printed material. Approved by Universal Robots as a UR+ end effector.