Robotics Gone Wild: 8 Animal-Inspired Machines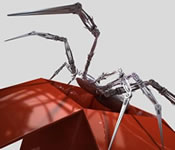 Thomas Claburn for InformationWeek: Among programmers, there's a principle called DRY, which stands for "Don't repeat yourself." It's an attempt to avoid writing code that duplicates the function of other code.
DRY embodies the same resistance to needless repetition as the more common idiom, "Don't reinvent the wheel."
Among those making robots, a group that includes software and hardware engineers attempts to adhere to these principles, as can be seen in designs that borrow from nature, from the evolved forms of life on Earth.
Biomimicry and bioinspired design provide a way to avoid reinventing the wheel. The biological systems of living things have been honed through eons of Darwinian user testing.
Borrowing aspects of animal physiology isn't the only option or necessarily the best option for robot designers. For some purposes, something new may be necessary. For others, biomechanically systems can't be easily duplicated. Cont'd...
Comments (0)
This post does not have any comments. Be the first to leave a comment below.
---
Post A Comment
You must be logged in before you can post a comment. Login now.
Featured Product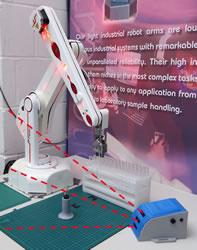 The 6-axis version of the R17HS high speed variant of the R17 robot is now available. As is our policy the 6th axis is an optional bolt-on module. At the same time we have made it even faster and new software eliminates shake and greatly improves repeatability as this video shows. Please see https://www.youtube.com/watch?v=3wG0MeiJ-yE. The video would seem to imply a repeatability of 0.01mm but we are sticking with 0.2mm in the spec. The motor specialist was able to tune the motors from the other side of the pond. My first reaction when we put power on and entered the first commands was to jump back in amazement (and maybe an expletive). Tip speed is now 3m/s; that's 3 times as fast as its nearest competitor yet costs half the price. I love it when a plan comes together.