ASU Robot learns to shoot hoops
ASU Interactive Robotics Lab: The video shows a bi-manual robot that learns to throw a ball into the hoop using reinforcement learning. A novel reinforcement learning algorithm "Sparse Latent Space Policy Search" allows the robot to learn the task within only about 2 hours.
The robot repeatedly throws the ball and receives a reward based on the distance of the ball to the center of the hoop. Algorithmic details about the method can be found here:
Comments (0)
This post does not have any comments. Be the first to leave a comment below.
---
Post A Comment
You must be logged in before you can post a comment. Login now.
Featured Product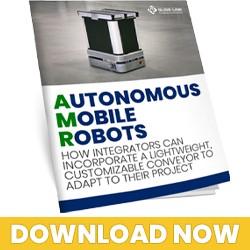 This eBook covers Glide-Line's conveyor attachments built specifically for AMRs. We go through the many variables that integrators are looking for in a cost-efficient AMR conveyor design, like: - lightweight, yet powerful - high flexibility & configurable -durability & dependability - DC-driven. At Glide-Line we solve problems that other conveyor manufacturers won't: simplicity - easy to maintain,flexible configurability, creating an efficient, hassle-free customer experience - customizations are normal to meet your needs.