The 'intelligent' robot companion that plays chess as a hobby, serves coffee and learns from its own experiences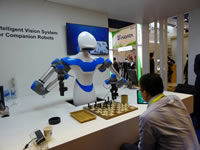 The Daily Mail: A robot developed by engineers in Taiwan can pour coffee and move chess pieces on a board against an opponent - but he's looking for a real job.
The robot spent last week playing games against opponents at the Consumer Electronics Show in Las Vegas. It was displaying what developers call an 'intelligent vision system' which can see its environment and act with greater precision than its peers.
With this enhanced vision, the robot can perform variety of tasks for service and manufacturing, and can also learn on the job with artificial intelligence. Playing chess is just a hobby showcasing the robot's visual acuity - such as the ability to distinguish between different chessmen- and dexterity in gripping and moving objects. Cont'd...
Comments (0)
This post does not have any comments. Be the first to leave a comment below.
---
Post A Comment
You must be logged in before you can post a comment. Login now.
Featured Product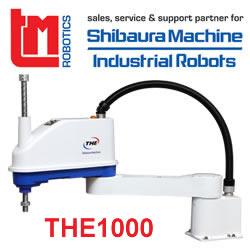 Designed for assembly and inspection applications in the electronics equipment and automobile components industries, the THE600 SCARA is a powerful automation tool. Advancing from the specifications of the existing THE400 SCARA, the THE600 has been developed to meet growing demand for fast-cycle automation. The THE600 model includes improvements in synchronised control and tracking precision. The THE600 is compact in design and offers improved high speed, with 60 per cent higher payload capacity than competing SCARA models in the same price range, making it the price-to-performance leader. Affordable price, impressive performance.