US Military Unleashes Swarm of Micro Drones Over California
From Seeker: The Pentagon may soon be unleashing a 21st-century version of locusts on its adversaries after officials on Monday said it had successfully tested a swarm of 103 micro-drones.
The important step in the development of new autonomous weapon systems was made possible by improvements in artificial intelligence, holding open the possibility that groups of small robots could act together under human direction.
Military strategists have high hopes for such drone swarms that would be cheap to produce and able to overwhelm opponents' defenses with their great numbers.
The test of the world's largest micro-drone swarm in California in October included 103 Perdix micro-drones measuring around six inches (16 centimeters) launched from three F/A-18 Super Hornet fighter jets, the Pentagon said in a statement.
"The micro-drones demonstrated advanced swarm behaviors such as collective decision-making, adaptive formation flying and self-healing," it said. Cont'd...
Comments (0)
This post does not have any comments. Be the first to leave a comment below.
---
Post A Comment
You must be logged in before you can post a comment. Login now.
Featured Product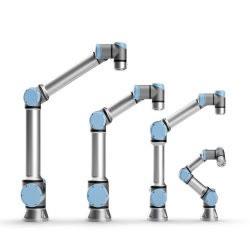 Collaborative robots from Universal Robots are bringing flexible, quick-to-deploy automation to manufacturers of all sizes. With payloads ranging from 3kg to 16kg, UR's cobots can handle nearly any dull, dirty dangerous task, from assembly to painting; palletizing to screw-driving; injection molding to welding. This family of four robot arms can help you improve productivity to compete in a global market. Learn more at www.universal-robots.com.