Crashing Drones Into Test Dummies for Safety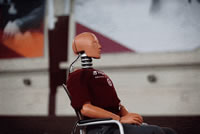 Alan Levin for Bloomberg: Hank sat impassively on a Virginia Tech athletic field, ready to take it on the chin for the future of drone commerce.
About 30 yards away, an eight-rotor unmanned copter hovered, buzzing like a swarm of bees. The 21-pound drone tilted forward, accelerated sharply and slammed into Hank's head, smacking the crash-test dummy's neck backward and embedding shards of shattered propeller in his plastic face.
There is little disagreement that the small- and medium-sized drones flooding the U.S. market can seriously injure or even kill someone. Understanding and minimizing the risk will be key to convincing regulators to expand their permitted uses, clearing the way for plans by Amazon.com Inc. and Alphabet Inc. to have them deliver packages or news outlets such as Time Warner Inc.'s CNN to use them for aerial video. Cont'd...
Comments (0)
This post does not have any comments. Be the first to leave a comment below.
---
Post A Comment
You must be logged in before you can post a comment. Login now.
Featured Product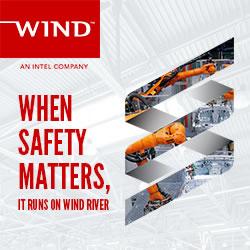 When it comes to ensuring the development of can't-fail systems, Wind River® is a leader with a proven track record of success. With more than 30 years of experience in embedded software and a portfolio of products deployed across more than 2 billion devices, Wind River delivers safety and security when it counts most. From industrial automation to automotive systems, as well as in healthcare devices, railway operations, and throughout the aerospace and defense sector, Wind River has extensive expertise providing built-in safety for complex, connected, safety-critical systems.