Amazon Enlists Researchers to Build Box-Packing Robots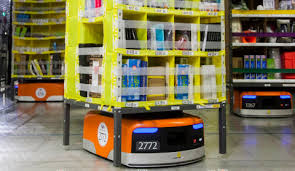 Joshua Brustein for Bloomberg:  Sixteen teams of robotics researchers are traveling to Japan this week to help Amazon.com Inc. solve its warehouse problem. The company has a fleet of robots that drive around its facilities gathering items for orders. But it needs humans for the last step — picking up items of various shapes, then packing the right ones into the correct boxes for shipping. It's a classic example of an activity that's simple, almost mindless, for humans, but still unattainable for robots. Starting Thursday, the company is running the Amazon Robotics Challenge, the third annual contest for robots that push those limits.Â
Both academic and commercial roboticists have been putting a lot of energy into solving what's sometimes referred to as the "picking" challenge, and Amazon is trying to direct that energy towards its specific needs. In one part of the contest, teams fill a shelf with a random assortment of items that Amazon provides — a champagne glass, a roll of duct tape, scissors, a children's book entitled "Robots, Robots Everywhere" — and their robots pull out specific items, packing them into boxes that represent pretend Amazon orders. In another, robots confront a jumble of items, and pack them onto shelves that resemble those in Amazon warehouses, remembering where each one went. There's about $250,000 of prize money at stake, including $80,000 for the top prize.Â
Â
Amazon gets nothing out of this, directly. But their own robotics team can potentially pick up techniques, or even new colleagues -- it has hired people who have entered past contests. More broadly, having robots that could reliably carry out the tasks from the challenge on their own would be a big step towards fully autonomous warehouses, which theoretically could run faster, cheaper, and around the clock.
Â
This raises uncomfortable questions about the future prospects for warehouse workers. In May, there were 949,000 people working in the warehouse and storage industry in the U.S., making an average wage of just under $20 an hour, according to the Bureau of Labor Statistics. The number of people working in the warehouse industry has grown 43 percent over the last decade, and wages have kept pace with inflation, even as a first wave of automation has taken place. Optimists argue that more automation leads to more growth, creating better jobs elsewhere. Pessimists are basically predicting that artificial intelligence will usher in an economic apocalypse.  Full Article:
Â
Comments (0)
This post does not have any comments. Be the first to leave a comment below.
---
Post A Comment
You must be logged in before you can post a comment. Login now.
Featured Product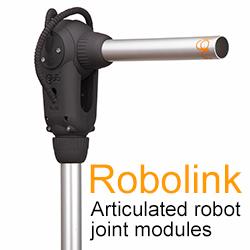 Robolink: Articulated joint modules for robots. igus® now offers a lightweight, maintenance- and corrosion-free range of robot joints for humanoid systems or other automated applications. The carbon-fiber plastic joints can rotate and oscillate freely via four wire ropes. No more expensive milling, cutting or DIY systems. Moving mass is reduced to a minimum. The actuators (engines, pneumatics and hydraulics) and the control module (DP, PC) are kept separate. Contact igus® for more information and free samples.