Colleges Are Marketing Drone Pilot Courses, but the Career Opportunities Are Murky
Elizabeth Woyke for MIT Technology Review: Hot-air balloon pilot Richard Varney typically spends his weekends transporting tourists around central Massachusetts in a huge, multicolored balloon. But on a recent Sunday, Varney drove to a local community college and learned to fly a different type of aerial vehicle. "I want to try something new," he said as he watched an instructor demonstrate how to steer a $2,000 drone equipped with a camera. "This could help me launch a side business taking aerial photos of local towns."
Varney isn't the only one betting on this as a new vocation. At least 15 community colleges across the country now have courses that teach people how to pilot drones, according to research conducted by MIT Technology Review. The trend accelerated over the past year, after the Federal Aviation Administration (FAA) issued a rule that requires people who operate drones commercially to take a test and get certified as "remote pilots."
Some four-year colleges and private companies are also training people to be drone pilots, but the community-college programs are particularly interesting because they attract diverse types of students, including adults looking to change careers. In fact, many community colleges offer drone classes through their "workforce development" and "workforce solutions" departments, which are designed to impart practical skills that people can apply immediately to their jobs or use to get new jobs, rather than conferring credits toward a college degree.
It's difficult to say whether these noncredit courses are effective. Full Article:
Comments (0)
This post does not have any comments. Be the first to leave a comment below.
---
Post A Comment
You must be logged in before you can post a comment. Login now.
Featured Product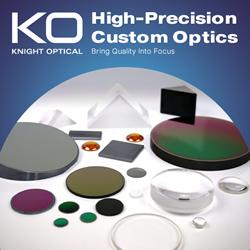 Knight Optical (KO) has provided discerning engineers, designers, and the like from the automation sector with dependable, premium-quality optics for over three decades. Throughout this time, the leading supplier has helped refine the precision of some of the world's most innovative technologies and partnered with a wide range of companies throughout the industry. In this article, Automation talks to KO about its involvement in the sector and, ultimately, finds out more about how the optical brand can help your supply chain process.