Tracking rogue drones with DJI's new Aeroscope system
Lauren Goode for The Verge: I wasn't expecting that we'd spot any drones when I joined Nick Martino, an airport operations supervisor, on his daily patrol around Camarillo Airport. We climbed into a white Chevy Tahoe, its side emblazoned with a blue "7," and Martino used a two-way radio to clear the runway of any aircraft nearby. (The Tahoe was big, but an aircraft would win.) In my lap I held a 40-pound Pelican Case, the latest creation from Chinese drone-maker DJI. Two wand-sized antennae stuck out of the top lid of the case; inside was a touchscreen display, running mapping software.
Martino calls this box "the gizmos," but its real name is Aeroscope. It's DJI's new solution for detecting rogue drones that are flying nearby. Martino and his team at the Ventura County Department of Airports have been testing Aeroscope since October, when DJI contacted the department and asked if they wanted access to an early prototype.
DJI's ask was savvy: airports are not only restricted airspace, where drones can be problematic, but Camarillo Airport also happens to be one of the first in the country that was UAS-approved by the FAA, according to Martino. In other words, Martino and his team fly drones themselves, using them to inspect towers and monitor wildlife on the outskirts of the runways. They like drones. This made Camarillo an ideal testing ground. Full Article:
Comments (0)
This post does not have any comments. Be the first to leave a comment below.
---
Post A Comment
You must be logged in before you can post a comment. Login now.
Featured Product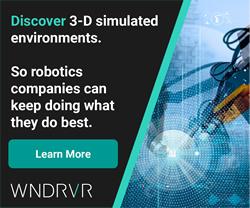 Develop new robotic capabilities with ROS 2 for VxWorks. ROS 2 for VxWorks® project provides custom modifications and build scripts to integrate the Robot Operating System 2 (ROS 2) framework with VxWorks 7. ROS 2 is a set of software libraries and tools that aid in building robot applications. Build ROS 2 for VxWorks using 1) with a VxWorks SDK that is available on the site under a free non-commercial use license; or via 2) with a commercially-licensed VxWorks product.