Artificial Intelligence Startup Announces New Breed of Mobile Autonomous Robots
AI Incorporated, Canada's pioneering robotics and artificial intelligence research company, is working on a design for an autonomous refuse receptacle robot. A new application for mobile robotics, the new AI enhanced robotic system allows for a continuous cycle of mobile robotic devices to work in order to provide the end user with unending service.
With this new application in mobile robotics, the company plans to use its Simultaneous Localization and Mapping (SLAM) technology combined with deep learning and to pioneer in a new generation of robots. The autonomous refuse receptacle robot is an application for the company's Versatile Self Localizing Autonomous Platforms (VSLAP). This new robot proprietary software called the Quantum Slam Operating System helps companies mobilize any given machine. With this invention replacing full trash cans will require less intervention on the part of individuals. When full, the bins will simply leave their post and an empty one will come to replace them. Where implemented, this system will eliminate the unpleasant task of emptying a filthy trash bin from human chores.
"Robots are best suited to partake in the work that humans do not wish to conduct," said Ali Afrouzi, CEO of AI Incorporated and bObsweep Inc. "Not only will these devices be able to navigate themselves, but by autonomously providing this perpetual service to the end user, no lapse in service will ever exist. A continuous service that will ease the lives of individuals in all walks of life."
The system utilizes multiple robotic devices each of which contains a comprehensive navigation system using a combination of SLAM, deep reinforcement learning, and computer vision. These devices will be able to map their environment, travel autonomously, communicate with each other, and monitor their internal contents with an extensive array of sensors. This new system for robots allows for a level of autonomous devices only imagined in science fiction, bringing us ever closer to the smart cities of the future.
To read more about this robot, please visit the AI Incorporated website at www.aiincorporated.com.
About AI Incorporated
AI Incorporated is a tech company that specializes in autonomous robotic devices. AI Incorporated offers Q-OS which is a SLAM enabled Operating System to companies in need of smart mobile platforms. It also provides Versatile Self Localizing Autonomous Platform devices to facilitate autonomy for companies that need it.
Comments (0)
This post does not have any comments. Be the first to leave a comment below.
---
Post A Comment
You must be logged in before you can post a comment. Login now.
Featured Product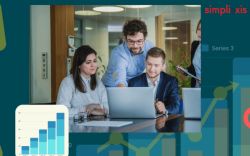 Challenges on the loading dock are characteristic of greater pressures from the rise of e-commerce. Loading and unloading freight from trailers, trucks and shipping containers are arduous, repetitive tasks plagued by high turnover. Even with regularly available staff, manually unloading freight and the constant lifting and twisting results in fatigue and inconsistent, declining productivity. Robotics capable of fully automating unloading tasks bring a new paradigm to the dock. High performance and flexibility push unloading from a labor-heavy, manual chore to an automated, refined process. High-performing DC workers can take more desirable positions, with relief from unpleasant work conditions. Management gets to replace uncertainty and staffing challenges with a reliable, automated process, with data to fuel continuous improvement.