Segway Robotics Launches Indiegogo Campaign for Loomo - The World's First Mobile Robot Sidekick
Segway Robotics, a wholly owned subsidiary of Segway-Ninebot Group, is proud to launch Loomo, a smart machine that toggles between a mini personal transporter and mobile robot sidekick. Loomo is now available for pre-order on Indiegogo today, with limited early bird pricing starting at $1299.
Loomo will be launched with a core set of foundational features, with more capabilities unlocked over time through over-the-air (OTA) updates. Out of the box, users can ride Loomo as a mini transporter. Loomo can follow the rider autonomously as a robot sidekick, and also has a playful personality. Loomo also comes with a free Android-based SDK for professional developers and enthusiasts alike to build on top of Segway's mobility + AI platform.
Loomo's key features include:
Self-Balancing Transporter: Smooth ride experience across most terrain types, with speeds of up to 11 MPH, and the capacity to cover 22 miles in one charge; a voice-based tutorial allows anyone to learn how to ride Loomo in mere minutes
Auto-Follow Expert: With advanced computer vision, Loomo can follow

riders

autonomously, shoot stabilized video, and more
Avatar:

A s

martphone can be used

as

the

remote control to access all of Loomo's capabilities - see, speak, interact, and explore as if you are Loomo
Friendly & Expressive Personality: Powered by its emotion engine, Loomo's lovable nature and lighthearted expressions will cheer you up and impress everyone aroun

d

Multiple Control Methods:

Loomo can be controlled

via

a

smartph

one app, voice command, gestures and touch sensors
New Skills Unlocked Over-the-Air (OTA): Loomo will continuously update its software and app OTA to include new features
Free Loomo Android SDK for developers: Directly access Loomo's mobility and AI capabilities to build a range of playful features or practical solutions
"Segway-Ninebot has already put millions of wheels on the ground that cover 180 million kilometers each year. But what happens if you combine Segway's proven mobility technology with cutting-edge AI? Well say hello to Loomo," said Li Pu, President of Segway Robotics. "Loomo is a reflection of our movie fantasies. It embodies our vision - how mobile personal robots can become a part of our everyday lives."
The Loomo Indiegogo campaign launches on March 6, 2018. Limited early bird pricing will be set at $1299.The basic pack includes 1 Loomo, 1 AC/DC adapter, 1 extended air tap and 1 USB 3.0 Type-C cable. Loomo will begin shipping to backers in May 2018.
About Segway Robotics
Segway Robotics is a privately held company that focuses on developing and commercializing personal robots. Founded in 2015, it is fully owned by Segway-Ninebot Group, a Series C company. The company has notable backers including the likes of Sequoia Capital, Intel Capital and Xiaomi.
Comments (0)
This post does not have any comments. Be the first to leave a comment below.
---
Post A Comment
You must be logged in before you can post a comment. Login now.
Featured Product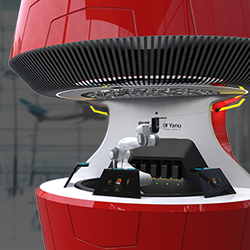 Tune in live on October 12 to be among the first to see what's new in the upcoming release of Solid Edge 2023. Hear real feedback from early access beta users and ask questions and interact with Siemens experts via live chat.