Finalists Named for AUVSI XCELLENCE Awards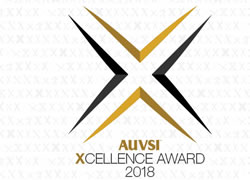 Finalists for the inaugural XCELLENCE Awards by the Association for Unmanned Vehicles Systems International (AUVSI) were named today. They represent accomplishments by companies, organizations and individuals across the unmanned systems community. The winners will be announced during award ceremonies on Tuesday, May 1 and Thursday, May 3, during AUVSI XPONENTIAL 2018 at the Colorado Convention Center in Denver.
"The unmanned systems industry is innovating at an incredible rate and creating tremendous benefits for our economy, lifestyle and society," said Brian Wynne, president and CEO of AUVSI. "The XCELLENCE awards give us a chance to recognize the companies and individuals who are propelling the industry into the future."
The AUVSI XCELLENCE Awards will honor innovators with a demonstrated commitment to advancing technology, leading and promoting safe operations, and developing programs that use unmanned systems to improve the human condition. These are the finalists in those categories:
TECHNOLOGY INNOVATION
Counter UAS & Security
Fortem Technologies, Fortem DroneHunter™ Counter-UAS Solution
Liteye Systems, AUDS and M-AUDS Counter UAS Detection, Identification and Defeat System
Raytheon, Windshear™ Scalable Cyber Counter-Unmanned Aircraft Systems (CUAS)
WhiteFox, FLEA: Frequency Localizing Electronic Apparatus
WhiteFox, DroneFox
Cybersecurity
Leidos, Inc., The Leidos Remotely Piloted Aircraft Operations Center Design and Installation Team
Regulus Cyber, Regulus Pyramid Solution Suite
Detect & Avoid
AEye, AEye iDAR
AirMap, AirMap Advances Unmanned Traffic Management
Echodyne Corp, MESA Radar
Fortem Technologies, TrueView R20 Radar, Fortem Technologies
Office of Naval Research (ONR) / Aurora Flight Sciences (AFS) Autonomous Aerial Cargo/Utility System (AACUS) team, AACUS, the Autonomous Aerial Cargo System
Inspection/Mapping & Surveying
AES Corporation, AES Global Drone Program
Airobotics, Airobotics Automated Industrial Drones
Neurala, Brains For Bots™ SDK
RIEGL USA, Mini is More: Multi-Target Measurement Capability for a Wide Variety of Applications
Remote Identification
Pierce Aerospace, Pierce Aerospace
WhiteFox, WISDM: WhiteFox Integrated Secure Device Manager
Innovative Unmanned Solutions
A³ by Airbus, Vahana
Epson, Epson Moverio Flight Sim App
Global Energy Transmission Co, Distance Wireless Energy Transmission Hotspot for In-Flight Drone Charging
Liquid Robotics, A Boeing Company, Next Generation Wave Glider
SkyX Systems Corporation, The Integrated SkyX Solution: SkyOne, xStation, SkyXOS
TRAINING & EDUCATION
Training & Education Organization
Carolina Drone Academy, Carolina Drone Academy - A Safety Culture
Consortiq, Consortiq Integrates CRM, Non-Technical, and Award Winning CQNet with sUAS Training
DARTdrones, DARTdrones Safety "Wings" Credentialing System
Kansas State University Polytechnic Campus, Professional Education Flight
L3 Link Training and Simulation, Predator/Reaper Mission Aircrew Training System Program Team
Training and Education Provider- Airmanship and Contribution to the UAS Industry (Individual)
Dr. Gregory Crutsinger, Founder, Scholar Farms
Patrick "Lucidity" Sherman, Commercial Drone Operator, Trainer and Educator, Roswell Flight Test Crew
Ric Stephens, Instructor/Drone Pilot, Oregon State University, Portland Community College, and University of Oregon
OPERATIONS & SAFETY
Operations & Safety Organization
AES Corporation, Creating a Safer, Smarter Workplace at AES Corporation
Federal Aviation Administration, Low Altitude Authorization and Notification Capability
NASA Langley Research Center, NASA Langley UAS Operations Office
Northern Plains UAS Test Site, Northern Plains UAS Test Site
XM2 Aerial, XM2 Aerial Management System
Operations and Safety - Airmanship and Contribution to the UAS Industry (Individual)
Harrison Wolf, President & Owner, Wolf UAS
Jos Olds, Vice President, Unmanned Safety Institute
Dr. Parimal Kopardekar, Senior Technologist, NASA
Finalists were also named for the Humanitarian Award, which is sponsored by DJI. These awards will recognize five organizations and/or individuals that have made a significant impact using unmanned systems to serve in humanitarian or philanthropic efforts. Recipients of the Humanitarian Award will receive a $25,000 donation divided among their organizations. These are the finalists for the Humanitarian Awards:
HUMANITARIAN
Humanitarian Project/Program
Aeryon Labs Inc., Aeryon SkyRanger UAS Provides Critical Aerial Intelligence to First Responders in Sint Maarten in the Wake of Hurricane Irma
AnsuR Technologies, GEO-VISION - Integrating Drones for Situational Awareness in Disaster Management
ONG DroneSAR Chile, Emergency Response Team and Humanitarian Aid Through the Use of
Drones
DroneSAR, DroneSAR UAV Search & Rescue (SAR) Solution - Executing Autonomous Aerial Search and Delivering Live Drone Data to Augment First Response Efforts
Gene Robinson, Wimberley Fire Rescue, "First to Respond" Bringing UAS to Search and Rescue 2005 - 2018
Nepal Flying Lab, Drone Hazard & Vulnerability Mapping in Nepal
WeRobotics, Drones for Disease Vector Control
Zipline International, Zipline's Medical Drone Delivery Operation in Rwanda
"UAVs are playing a vital role in humanitarian operations around the world—from Chile to Tanzania, to China and Australia—as demonstrated by the submissions we've seen from this inaugural program," said Michael Perry, Managing Director of North America at DJI. "In addition to recognizing those that have made great contributions to their communities and the environment, this opportunity helped uncover some new innovative applications in how UAVs are being used to serve humanitarian and lifesaving purposes. We thank the judges who undertook the great challenge of selecting the eight finalists from a pool of remarkable submissions, and we hope this inspires more users to accomplish great feats with this valuable technology."
The winners in the Technology Innovation, Training and Education, and Operations and Safety categories will be announced at XPONENTIAL 2018 on Tuesday, May 1 at 11:30 a.m. MDT at the Solutions Theater in the exhibit hall.
Recipients of the Humanitarian Award will be announced on Thursday, May 3 at 9:00 a.m. MDT during the keynote presentation in Mile High Ballroom.
As the unmanned systems industry's largest trade show and conference, XPONENTIAL offers a broad-based and balanced educational program brimming with cutting-edge content and inspirational insights, ranging from policy implications and technical challenges to use cases and best practices across vertical markets and everything in between.
For more information about the AUVSI XCELLENCE Awards and XPONENTIAL, visit xponential.org.
###
About AUVSI
The Association for Unmanned Vehicle Systems International (AUVSI) — the world's largest non-profit organization dedicated to the advancement of unmanned systems and robotics — represents corporations and professionals from more than 60 countries involved in industry, government and academia. AUVSI members work in the defense, civil and commercial markets. For more information, visit AUVSI.org.
Comments (0)
This post does not have any comments. Be the first to leave a comment below.
---
Post A Comment
You must be logged in before you can post a comment. Login now.
Featured Product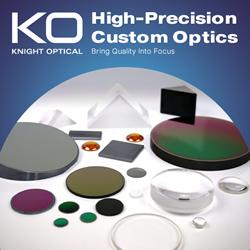 In the era of Industry 4.0, automation and machine learning drive the future. Knight Optical stands at the forefront, collaborating globally to supply precision optical components that power the robotics and automation sector. From UAVs, drones, and robotics to machine vision, LiDAR-driven car sensors, and renewable energy, our optics empower innovation. Optical components play an important role within the industry, including: Optical windows and domes safeguard systems in unmanned vehicles while preserving the field of view for cameras. Infrared lenses with aspheric surfaces elevate thermal imaging. Optical filters excel in machine vision, with colour glass, interference, and dichroic filters in our stock. Knight Optical provides stock components and custom solutions made to your exact specs. With every component undergoing rigorous metrology and QA checks before shipment, you are sure to experience true precision, innovation, and assurance.