Exyn Technologies and Velodyne LiDAR Create Fully Autonomous Indoor Aerial Vehicles
Originating from the University of Pennsylvania's GRASP Labs, Exyn Technologies has commercialized groundbreaking research to build its proprietary AI software, exynAI™, technology from the ground-up. Today, Exyn Technologies provides leading AI software and A3R hardware, which together form its fully autonomous aerial robot that safely executes complex missions in high-value commercial operations.
Velodyne LiDAR's VLP-16 Puck LITE LiDAR sensors are now integrated into Exyn Technologies' Advanced Autonomous Aerial Robots (A3R) and will be flying in large warehouses and distribution centers to autonomously scan and map inventory, helping to increase frequency and accuracy of cycle counts, reduce time taken, and decrease risk for workers.
"Using Velodyne's VLP-16, Exyn's A3Rs do not need GPS, beacons or markers," said Nader Elm, chief executive officer of Exyn Technologies. "This technology is being developed to ease logistical bottlenecks in warehouses, as well as to go into other indoor and GPS-limited environments such as commercial construction sites and first-responder situations. We operate in a full 3D volumetric space and can dynamically plan flight paths in complex, dynamic and cluttered environments."
The Velodyne VLP-16 is the primary sensor for simultaneous localization and mapping, as well as part of the sense-and-avoid capabilities and state estimation. The Unmanned Aerial Vehicle (UAV) robot scans in all fields of view, reading barcodes and RFID beacons, judging location and numbers of stock. The vehicle can even note worker positions and react accordingly in real-time.
"We are very excited to partner with Exyn Technologies," said Frank Bertini, UAV and Robotics business manager at Velodyne LiDAR. "It proves the business case for 3D LiDAR beyond just autonomous cars. The demand for real-time inventory management within warehouses and fulfilment centers has created a need for autonomous platforms which are both efficient and safe."
The A3R, powered by the exynAI™ autonomy core, intelligently fuses multiple sensing modalities including LiDAR, IMU, and cameras to enable robust perception and navigation in real-world conditions. No one is as focused on robust, indoor, infrastructure-less autonomous flight as Exyn. While agnostic to the vehicle platform, the company is also planning to extend its autonomous capabilities to ground-based robots.
Exyn Technologies was recently invited to fly their A3R robots in the Milestones of Flight Hall during the Smithsonian Ingenuity Festival.
This demonstration turned out to be the first time anything had ever actually flown inside this distinguished institution that celebrates flight.
Exyn Technologies will be demonstrating the A3R at AUVSI in Denver, CO April 30 – May 3, 2018. Velodyne LiDAR will be at AUVSI (Booth #712).
About Velodyne LiDAR
Founded in 1983 and headquartered in Silicon Valley, Velodyne is a technology company known worldwide for its real-time 3D LiDAR computing and software platforms. Velodyne LiDAR Inc. emerged in 2005 as the unmatched market leader of real-time 3D vision systems used in a variety of commercial applications including autonomous vehicles, vehicle safety systems, mobile mapping, aerial mapping, and security. Its products range from the high-performance, surround view Ultra-Puck™ VLP-32, classic HDL-32/64 and cost-effective VLP-16, to the upcoming, hidden Velarray™. Velodyne's rich suite of perception software and algorithms are the key enablers of its perception systems. Velodyne supports customers from offices in San Jose, Detroit, Frankfurt, and Beijing.
For more information, visit http://www.velodynelidar.com.
About Exyn Technologies
Exyn Technologies is a leader in software development for autonomous aerial robotics. A spin-off of the GRASP Laboratory at the University of Pennsylvania, Exyn is commercializing over a decade of research and development in the area of self-piloting robotics. Exyn is creating drone platforms that do not rely on human control or GPS information, and their unique technology is built upon the fusion of multiple redundant sensors, mapping for obstacle avoidance, and independent flight planning. Exyn's robots are highly differentiated and robust, making them ideal and practical for complex commercial environments. Exyn Technologies is privately held with offices in Philadelphia, PA.
For more information, visit http://www.exyn.com.
Comments (0)
This post does not have any comments. Be the first to leave a comment below.
---
Post A Comment
You must be logged in before you can post a comment. Login now.
Featured Product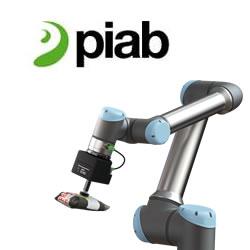 Piab's Kenos KCS gripper enables a collaborative robot to handle just about anything at any time. Combining Piab's proprietary air-driven COAX vacuum technology with an easily replaceable technical foam that molds itself around any surface or shape, the gripper can be used to safely grip, lift and handle any object. Standard interface (ISO) adapters enable the whole unit to be attached to any cobot type on the market with a body made in a lightweight 3D printed material. Approved by Universal Robots as a UR+ end effector.