Ørsted Partners with SkySpecs to Conduct Automated Robotic Inspection on World's Largest Offshore Wind Turbine Blades
SkySpecs, the award-winning provider of robotics solutions for the wind energy industry – in collaboration with Ørsted, global leaders in developing and building offshore wind farms, today announce a successful automated inspection of the world's largest offshore wind turbine at Burbo Bank Extension, in the Irish Sea.
"Providing consistent image quality across the largest turbines offshore is challenging and requires consistency from the drone," David-Lee Jones, Ørsted's Senior Technical Project Lead, said. "This was the purpose of our work with SkySpecs. We really wanted to validate that their technology could provide the type of precise and robust inspection capabilities that Ørsted expects. We are pleased to announce that the inspection was a success."
Ørsted's mission is to lead the way in offshore wind innovation, and testing an automated inspection on an 8MW offshore turbine was an important step in gaining confidence that this technology has the potential to be rolled out on all larger sized wind turbines.
Ørsted is bringing that innovation to the U.S. as well, with projects under development in Massachusetts, New Jerseyand Virginia. As the industry leader, the company is using its expertise to help build a mature, technologically advanced U.S. offshore wind industry – creating jobs and continuing to push the global industry forward.
The data that SkySpecs collected will be used to evaluate the condition of the 80-meter turbine blades as well. SkySpecs' solution includes:
Fully automated robotic inspections of wind turbine blades that take less than 15 minutes from start to finish;
Automatic data upload to their software product, Horizon, that classifies images by damage type and severity;
An advanced feature set in Horizon that includes repair planning workflows, analytics dashboards and insights that enable users to spot trends, project repair costs and determine ROI.
"We are pleased that we've helped Ørsted move ahead with their goals. As an organization, we are committed to applying robotic solutions to solve challenges faced by the renewable energy," said SkySpecs' CTO Tom Brady. "We're helping owners craft their predictive maintenance strategies with a mountain of blade data and analytics tools that help them understand the health of their fleet."
SkySpecs delivers automated onshore and offshore inspections to global customers. Working with industry leaders, SkySpecs' is realizing their mission to automate renewable energy O&M.
SkySpecs SkySpecs' mission is to bring robotics and software technology to the renewable energy industry, ultimately making green energy more affordable and attainable for everyone. Serving many of the major wind farm owners, ISPs and OEMs internationally, SkySpecs automates blade data collection, and provides expert fleet-level management and analytics with their new platform, Horizon. SkySpecs is a proud member of AWEA, WindEurope and the Commercial Drone Alliance. http://www.skyspecs.com/
Ørsted has a vision of creating a world that runs entirely on green energy. Ørsted develops, constructs and operates offshore wind farms, bioenergy plants and innovative waste-to-energy solutions and provides smart energy products to its customers. Headquartered in Denmark, Ørsted employs 5,600 people. Ørsted's shares are listed on Nasdaq Copenhagen (Orsted). In 2017, the company's revenue was DKK 59.5 billion (EUR 8.0 billion). For more information on Ørsted, visit orsted.com or follow us on Facebook, LinkedIn, Instagram and Twitter.
Comments (0)
This post does not have any comments. Be the first to leave a comment below.
---
Post A Comment
You must be logged in before you can post a comment. Login now.
Featured Product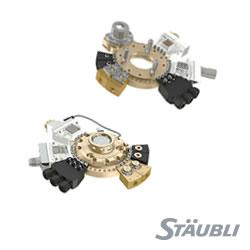 Stäubli is a pioneer in the construction and development of robotic tool changing systems. Our customers benefit from our many years of expertise in all industry sectors, as well as our modular product concept, which offers three efficient solution paths: MPS COMPLETE offers preconfigured robotic tool changers for immediate use. MPS MODULAR allows the user to determine the configuration, while MPS CUSTOMIZED allows the construction of special, application-specific systems.