Tesla Selects The Robotics Education & Competition Foundation As One Of The Initial Recipients Of The Company's Nevada K-12 Investment Fund
The Robotics Education & Competition (REC) Foundation today announced an investment by Tesla through its Nevada K-12 Investment Fund to engage students in STEM learning by establishing K-12 robotics programs at every school in Nevada. As part of the investment, an initial disbursement has been granted to our organization to help support robotics, STEM and sustainability efforts at the K-12 level. This investment will enable the REC Foundation to establish 172 VEX IQ Challenge and VEX Robotics Competition teams at 86 schools. In Nevada, this investment will nearly double the number of VEX Competition teams across the state in one year.
VEX Competitions are among the world's fastest growing robotics programs for elementary schools, middle schools, high schools, and colleges around the world, spanning over 20,000 teams in 50 countries participating in more than 1,700 events annually.
"The REC Foundation is grateful to Tesla for their support and we appreciate the value they place on STEM education and robotics as drivers of our future economy. As we think about the future, it is hard to imagine one that doesn't involve robotics and artificial intelligence. Encouraging our students to engage in these subjects in elementary, middle, and high school will be an imperative to successfully prepare them for careers of the future," said Dan Mantz, CEO of the REC Foundation.
The VEX IQ Challenge Next Level and VEX Robotics Competition Turning Point are this season's series of game challenges supported by the Robotics Education & Competition Foundation. VEX IQ Challenge Next Level brings elementary and middle school students together to compete in teamwork challenges with custom-built robots using VEX IQ. Teams compete as an alliance during a 60-second match, working collaboratively to score points. Together, they seek to attain the highest score by placing colored hubs in building zones, by removing hubs from the hanging structure, and by hanging robots at the end of the match.
VEX Robotics Competition Turning Point brings middle school, high school and college students together with guidance from their teachers and mentors to compete against each other with robots they designed, built and programmed using VEX EDR. Two alliances – one "red" and one "blue" are formed and consist of two teams each, where they compete in fifteen second autonomous matches followed by one minute and forty-five seconds of driver-controlled play. The object of the game is to attain a higher score than the opposing alliance by high scoring or low scoring caps, toggling flags, and by alliance parking or center parking robots on the platforms.
The competition season culminates each spring at the VEX Robotics World Championship, where the best teams from across the United States and around the world gather to challenge their top-ranked peers to become World Champions.
Tesla's mission is to accelerate the world's transition to sustainable energy. Tesla builds not only all-electric vehicles but also infinitely scalable clean energy generation and storage products. The goal of Tesla's investment is to encourage students of all backgrounds to consider a career in STEM or sustainability, and to develop the next generation of engineers in Nevada.
For more information please visit www.RoboticsEducation.org or www.RobotEvents.com.
About the Robotics Education & Competition Foundation
The Robotics Education & Competition (REC) Foundation's mission is to increase student interest and involvement in science, technology, engineering, and mathematics (STEM) by engaging students in hands-on, affordable, and sustainable robotics engineering programs. For more information on the REC Foundation, visit www.RoboticsEducation.org.
Comments (0)
This post does not have any comments. Be the first to leave a comment below.
---
Post A Comment
You must be logged in before you can post a comment. Login now.
Featured Product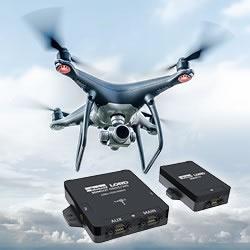 The new complete inertial navigation solution comes with GNSS/INS 3DMGQ7 sensor, 3DMRTK correction modem and real time SensorCloud RTK correction network. The sensor comes with Dual antenna GNSS, tactical grade IMU with centimeter-level accuracy with RTK. Low profile and light weight at 78 grams, this sensor is The sensor is optimized for size and weight in Unmanned Ground Vehicles, mobile robots and autonomous vehicles. The network interface 3DMRTK modem is seamlessly integrated into the 3DMGQ7 sensor supports industry-standard NMEA and RTCM 3.1 protocols. The network RTK support comes with cellular data plan. The SensorCloud RTK is a cloud-based RTK correction system with private encrypted data stream. Check out our G Series and C Series OEM products.