IMTS 2018 TO BE FIRST SHOW TO FULLY OCCUPY MCCORMICK PLACE
IMTS 2018 – The International Manufacturing Technology Show, runs from Sept. 10 – 15 at Chicago's McCormick Place, is on pace to have the most exhibit space in the show's 91-year history. Technology, product, conference and meeting areas will occupy all five levels of McCormick Place's four buildings.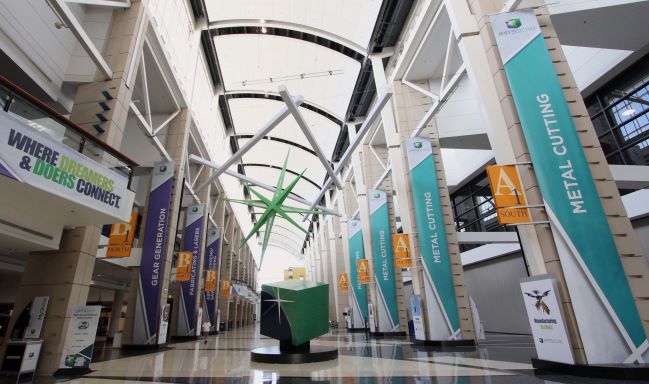 Changes for IMTS 2018 include using Level 2 of the East Building for portions of the Controls & CAD-CAM Pavilion and events associated with HANNOVER MESSE USA: four co-located shows, a Digital Factory and the Solutions Theater. IMTS has expanded the Tooling & Workholding Pavilion into a new Annex in the West Building. Recognizing the pace of innovation, IMTS 2018 will feature not one but two AMT's Emerging Technology Centers (ETC) in the North and West Buildings. The ETCs explore current and over-the-horizon technologies for digital connectivity and additive manufacturing, the industry's most explosive growth areas.
"A myriad of factors are bolstering the manufacturing technology market, and IMTS 2018 has expanded its exhibit space to accommodate the increased interest," says Peter R. Eelman, Vice President – Exhibitions & Business Development at AMT – The Association For Manufacturing Technology, which owns and produces IMTS.

"Factors include the exponential rate of technology advances, the need to use technology instead of manpower to boost productivity and the strongest manufacturing economy in a decade," says Eelman. "Businesses have more money and will continue boosting their investment in capital equipment and R&D. Coupled with higher consumer confidence, manufacturers need to increase production to meet strong demand."
Pace of Innovation
With machine capabilities reaching physical limits, Eelman notes that IMTS exhibitors have moved beyond incremental improvements. "The new technology showcased at IMTS adds completely new science that changes manufacturing processes. Manufacturing has become more of a science than ever before," he says.
As examples, Eelman points to connected products and Industry 4.0 solutions. At IMTS 2016, most such products were forward looking. At IMTS 2018, visitors will be able to experience hundreds, if not thousands, of demonstrations featuring digitally connectivity. Additive manufacturing continues to permeate more mainstream solutions, such as the 3D printed entrance ways to the IMTS technology pavilions.
"Visitors find more productive technologies and change their business practices as a result of attending IMTS," states Eelman. "Exhibitors make finding new solutions easy because they time product introductions to coincide with IMTS. Booths emphasize new ideas, not standard products."
Strong Economy
Patrick McGibbon, Vice President of Strategic Analytics at AMT, notes that orders are more than 20 percent higher through the first six months of 2018 versus 2017. Even conservative forecasts show manufacturing market growth higher than 14 percent for the remainder of 2018 and into 2019.
"We anticipate immediate acceleration in capital investment among IMTS 2018 visitor and exhibitor companies," says McGibbon. "Changes to the U.S. tax law further encourage purchasing, as R&D tax credits expand innovation and fully expense capital expenditures. This is the best time to buy new equipment cost-effectively, and IMTS offers the best opportunity to compare products and interact face-to-face with technology providers."
AMT's Emerging Technology Center focused on Digital Transformation highlights the digital manufacturing revolution in action, with demonstrations on how businesses in the aerospace, automotive, medical and energy sectors are implementing cutting-edge innovations.
"For those who want to see and experience a federated system of distributed manufacturing, the ETC featuring Digital Transformation provides a look into the technology trends that will dominate the next 15 years of manufacturing," says Tim Shinbara, Vice President – Manufacturing Technology at AMT. Exhibits in the North ETC include:
Digital Manufacturing Cell. This digital manufacturing cell demonstrates the ability to manufacture a part where the process, the tasks, and the verification have all been automated. One significant aspect is that all the elements of this cell are communicating using standards. The software is all open-source and being developed by consortiums to provide the building blocks for the next steps in manufacturing.
iTSpeeX. ATHENA, from industry technology incubator, iTSpeeX, is the first universal, voice-operated assistant technology specifically designed for manufacturing work. ATHENA enables operators to interact with machine tools using simple voice commands and can work on all machines, regardless of brand.
CISCO. See how a single, converged, unified plant-to-business network, tested and validated to support standard industrial Ethernet protocols along with industrial standards provide the critical backbone needed for I4.0 transformation.
The Digital Transformation of Manufacturing. This featured video focuses on the challenges and opportunities in the Future of Manufacturing and the Digital Factory, covering major shifts in markets, technology, agile manufacturing, and revolutionary design strategies. The video highlights the views and perspectives of key thought leaders and doers, including what's now, what's new and what's next.
AMRC – a video profile. The Advanced Manufacturing Research Centre is part of the AMRC Group, a cluster of world-class centers for industry-focused research and development of technologies used in high-value manufacturing sectors. Located in Sheffield, England, AMRC has a global reputation for helping companies overcome manufacturing problems and has become a model for collaborative research involving universities, academics and industry, worldwide as well as preparing the next generation of factory engineers for the present and future.
"A connected factory provides data driven advantages to improve productivity or increase uptime," adds Shinbara. "Data aggregation and analysis is changing the nature of how companies operate even before a project begins. That's how companies realize exponential productivity improvements."
"In a connected facility, a manufacturer could choose whether to bend or to cut and weld, altering design and production planning based on the capability and availability and of its equipment fleet," adds Brett Peterson, Sales Engineer, Trumpf Inc. "Automation goes beyond just moving materials and unattended work cells. Companies will increase their competitiveness the more they can automate work flow and reduce cycle time. Soon it will become the norm where customer go online, get a quote and submit an order."
Additive Manufacturing Continues to Expand
Additive manufacturing has significantly increased the speed at which new products and technologies can be brought to market, so IMTS dedicated an area just to this topic: the AMT's Emerging Technology Center focused on Additive Manufacturing technology.
The demand for additive technology has grown as more shops are using it as a fast and cost-efficient way to build jigs, fixtures and other tools. Others are already beginning to explore how to integrate 3D printing systems into existing operations and use them for product development.
"Additive products that were leading edge technology only two years ago are now mainstream," says Eelman. "There's always a new solution on the horizon that we can't even comprehend today. That's why the ETC is so important to explore for a forward-thinking industry."
In the ETC focusing on Additive Manufacturing, visitors will experience demonstrations of the newest breakthroughs in materials, speeds and technologies. Exhibits will include:
AM Research from ORNL. Oak Ridge National Laboratory will showcase fundamental research on qualification and certification of additively manufactured parts leveraging capabilities in data analytics.
Die-in-a-Day Scavenger Hunt. Led by Oak Ridge National Laboratory, the Die-in-a-Day Scavenger Hunt leads participants through the creation of an additively manufactured tool, from design and prototype production to final inspection.
America Makes Knowledge Bar. America Makes, a public-private partnership to innovate and accelerate to increase U.S. manufacturing competitiveness, will staff a Knowledge Bar. Visitors can interact with additive experts, learn about a dynamic online tool and gain insight into how America Makes accelerates the adoption of additive manufacturing technology.
"Emerging Technology Centers are like crystal balls predicting the future," says Eelman. "Whatever mind-blowing idea is new in an ETC today will be the hottest thing exhibitors bring to a future IMTS."
IMTS Ride Experience
Olli, an Autonomous Vehicle that made its debut at the previous show, will shuttle visitors between North building level 3 and East building level 3 as part of the IMTS 2018 Ride Experience. Designed and manufactured by Local Motors, Olli is equipped with IBM Watson Internet of Things (IoT) technology, Olli. More than just an intelligent and entertaining ride, Olli represents a fundamental shift in vehicle production.
"LM Industries' manufacturing leaves behind century-old, traditional mass-vehicle production in favor of fast-paced, direct digital manufacturing using co-creation, 3D-printing, and micro-manufacturing," says LM Industries CEO and co-founder John B. Rogers, Jr. "Mass manufacturing can't meet today's rapidly changing consumer preferences because of its inability to change quickly. A manufacturing process created for local, market-responsive, customizable products allows for a flexible vehicle platform like Olli. It's a matter of fundamentally rethinking both process and product to respond to modern consumer demands."
Smartforce Student Summit
IMTS 2018 focuses not just on future technology, but on growing the people who will use that technology with its Smartforce Student Summit events. At IMTS 2016, more than 17,000 students, parents and educators visited the event.
For IMTS 2018, in partnership with leading education institutions and advanced technology companies such as ABB Robotics, Carl Zeiss, Fanuc America, Festo-Didactic, Haas Automation, Heidenhain, Mastercam, Mitutoyo, and Siemens, the Student Summit has hands-on challenges that focus on: the Industrial Internet of Things (IIoT), five-axis machining, collaborative robotics, additive manufacturing, generative design, metrology and MTConnect®, a communication standard for advanced manufacturing technology.
"Students are able to do so much more than observe and interact. They are encouraged to actually use the technology in a way that gives them a real-world preview of the industry and various manufacturing careers," says Greg Jones, Vice President, Smartforce Development, AMT.
Experts Share at Conferences
The IMTS Conference, jointly produced by AMT and GIE Media, features more than 72 sessions focused on current topics such as manufacturing process innovations, additive/alternative manufacturing, plant operations, automation/robotics, Industry 4.0/IIoT and quality/inspection/metrology.
In addition, there is a multitude of co-located conferences and events. These include the IMTS Job Shops program, the Additive Manufacturing Conference, Applied AM-Where Additive Minds Meet, the Top Shops Workshop, the Industrial Laser Conference and three conferences from HANNOVER MESSE USA: Global Automation & Manufacturing Summit, OPC Foundation Conference and the Integrated Industries Conference. Some of these conferences may require pre-registration.
"Educational opportunities exist in every square foot of McCormick Place," says Eelman. "Visitors will find new products that deliver immediate results, as well as and technologies and ideas that can transform their operation."
Comments (0)
This post does not have any comments. Be the first to leave a comment below.
---
Post A Comment
You must be logged in before you can post a comment. Login now.
Featured Product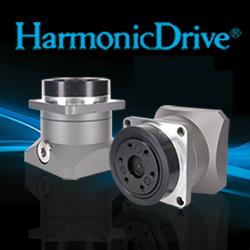 The SHA-IDT Series is a family of compact actuators that deliver high torque with exceptional accuracy and repeatability. These hollow shaft servo actuators feature Harmonic Drive® precision strain wave gears combined with a brushless servomotor, a brake, two magnetic absolute encoders and an integrated servo drive with CANopen® communication. This revolutionary product eliminates the need for an external drive and greatly simplifies wiring yet delivers high-positional accuracy and torsional stiffness in a compact housing.