The Growth of Non-Industrial Robotics Is Driving a Diversification of New Robotics Applications, According to Tractica
The robotics market continues to experience a profound and significant restructuring as the traditional industrial robotics sector shrinks as an overall percentage of the total robotics industry. According to recent estimates from Tractica, non-industrial robots represented 70% of the $39.3 billion robotics market globally in 2017, growing from a 64% share in 2016. Most of this growth is being driven by new and expanding use cases in segments like agriculture, autonomous vehicles, consumer unmanned aerial vehicles (UAVs), warehousing, logistics, military robotics, and personal assistant robots.
Tractica's analysis indicates that there are currently 110 real-world use cases that compose the total robotics market, a significant diversification of robot applications compared to just a few years ago.
"The key trend emerging in the industry is that AI technologies like deep learning, computer vision, and natural language processing are revolutionizing autonomy and UI/UX capabilities in robots," says senior analyst Glenn Sanders. "This trend is driving many of the most significant advancements in robotics and is making possible numerous new commercial and personal robotics use cases."
Sanders adds that the result is that the number of non-industrial robots for professional and consumer use cases is expected to more than double in the next 5 years.
Tractica's report, "Robotics Use Cases", covers 110 use cases for robotics, with examples and descriptions including consumer robots, enterprise robots, industrial robots, healthcare robots, military robots, UAVs, and autonomous vehicles. These categories are segmented into 15 robot application markets. Market data within the report includes revenue forecasts for each segment. The forecast period for this report extends from 2017 through 2025. An Executive Summary of the report is available for free download on the firm's website.
About Tractica
Tractica, an Informa business, is a market intelligence firm that focuses on emerging technologies. Tractica's global market research and consulting services combine qualitative and quantitative research methodologies to provide a comprehensive view of the emerging market opportunities surrounding Artificial Intelligence, Robotics, User Interface Technologies, Advanced Computing, Connected & Autonomous Vehicles, and Wearables & Digital Health. For more information, visit www.tractica.com or call +1.303.248.3000.
Comments (0)
This post does not have any comments. Be the first to leave a comment below.
---
Post A Comment
You must be logged in before you can post a comment. Login now.
Featured Product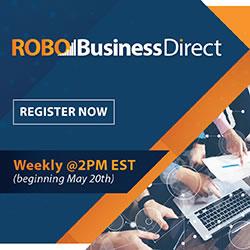 RoboBusiness Direct is built to foster robotics innovation in all its forms, expand robotics business opportunities, and build a community of like-minded problem solvers with the goal of driving the growth of robotics businesses. More than a webinar or virtual event, RoboBusiness Direct is an ongoing, integrated series of presentations and media coverage delivered by brightest minds from the leading robotics and automation companies from around the world - Nuro, FedEx, Lockheed Martin, Samsung, Siemens and more.