The cornerstones of Zimmer Group's Industry 4.0 success in production
Be part of the Revolution!
The cornerstones of Zimmer Group's Industry 4.0 success in production

The world in which we live is changing. This change is likely to happen more quickly than we can observe in the snapshot of time. In the mechanical engineering and automation fields, this revolutionary shift—the networking of industrial infrastructure—is referred to as Industry 4.0. This word refers to the merging of traditional engineering sciences with IT as well as the networking of components, machines and entire factory complexes. Ultimately, this outlines a more comprehensive solution approach to future challenges in all modern industrial societies. These challenges can be roughly categorized into four areas. The first area is demographic change in society and implications of this change. Secondly, new, flexible and highly efficient production methods are required based on purchasers' ever-increasing desire for customized products in more widely diversified portfolios and smaller batch size production. One could call this type of production organization "mass customization." The third area has to do with ensuring the competitiveness of goods and services from high-wage countries, such as Germany, for the future. Lastly, the necessity of high efficiency with respect to resources and energy will have a significant impact on the industry of the future on a worldwide scale. For these challenges, Zimmer Group doesn't just offer their customers selective customized solutions, but rather a perfectly harmonized comprehensive package from the project planning phase to commissioning and daily use and even service.
Industry 4.0 mechatronic components
Zimmer Group has consistently and successfully oriented their mechatronic component portfolio towards Industry 4.0. These range from electric mid-class grippers for standard applications to motor spindles for chipping wood, plastic and metal, to high end products, such as high performance grippers with hybrid pneumatic-electric drives and a complete human/robot collaboration (HRC) kit. This mechatronic intelligent component portfolio forms the foundation. This basic package offers a wide range of advantages:
In contrast to conventional components, it enables very easy installation, commissioning, configuration and operation. Furthermore, advanced diagnostics, simplified preventive maintenance and, where required, interchangeability of the respective component during running is possible.
Digital twin - reaching the objective with more speed and precision thanks to real-time simulation
Another cornerstone of success is the digital twin. This real time simulation, connected to a real or virtual control system, leads to improved coordination between robot control system and the planned system during the planning, development and commissioning stages.
The control system program, system design and processes can be optimally coordinated to each other. The digital twin also offers simple, uncomplicated programming and commissioning, which shortens commissioning periods by up to 80% and enables a faster start of production. Another major advantage is error-free and reliable operation right from the start thanks to optimized training for operating personnel. The digital twin allows for simplified optimization during running operation, higher production availability/ lower downtimes and an appreciable reduction in maintenance costs.
HMI - the interface between components and personnel
The third cornerstone of success is the Zimmer Group Human Machine Interface, which provides easy integration of components into the respective robot control systems of intelligent Zimmer Group components and components from third party manufacturers. The most important benefit of the Zimmer Group HMI is its easy and intuitive installation and operation, since the technical parameters of the component can be easily defined, modified and graphically displayed. Intelligent components can be easily integrated into the robot control system.
The operation of the robotic components from Zimmer Group is just as easy and flexible as the installation. The components can be accessed in one of the following three ways: Through the central control system, through the integrated control panel (available for most components) or through HMI, a user interface developed by Zimmer Group for interaction between human and robot. With its intuitively operated interface, the HMI gives users the maximum level of flexibility when creating, storing and restoring device parameters and also provides assistance during diagnostics/preventive maintenance. For Zimmer Group components, activation via HMI is integrated into the user interface of the robot. Zimmer Group components can be equipped directly via the user interface of the robot control panel thanks to this integration. They are thus perfectly incorporated into the robot's program sequence without the need for an external PLC control system. Nonetheless, with this tailor-made overall system, the user can control the complete Zimmer Group IO-Link gripper portfolio and use Zimmer Group pneumatic, electric, servo-electric and digital components for practically any and all robots. The HMI provides the user with maximum flexibility when creating and managing application profiles for the various gripping and handling components. It also allows for a straightforward adaptation, storage and restoration of device parameters such as gripping forces or movement speed. The interaction of robots and handling components is thus considerably simplified.
The synergy of these three cornerstones of success provides state-of-the-art integration and operator guidance and sustainability in an Industry 4.0 environment.
The Zimmer Group brand experienced a steep rise after its relaunch in 2013. In upholding its slogan, "The Know-How Factory," Zimmer Group follows an uncompromising path toward innovation. This is because we believe it is innovation that separates leaders from followers. The brand and comprehensive product portfolio is structured into Zimmer Group's six technology areas. The synergies between these areas generate optimal benefits for the clientele.
Comments (0)
This post does not have any comments. Be the first to leave a comment below.
---
Post A Comment
You must be logged in before you can post a comment. Login now.
Featured Product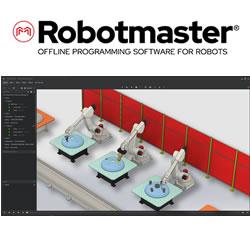 Robotmaster® offline programming software for robots helps manufacturers maximize their productivity and profitability with an intuitive and powerful programing solution ideal for production runs of all sizes and varying part complexity as a result of integrated CAD/CAM functionality.