Building a Sustainable Future with Today's Packaging Solutions
Sustainability has a role in almost every aspect of business today. When it comes to the economics of the circular economy – a system aimed at eliminating waste through the continuous use of resources – global mega-trends and market insight are driving business decisions for a more sustainable future. In addition, consumer packaged goods (CPGs) companies must stay ahead of the curve, considering and adapting to consumption patterns and modes of purchase such as e-commerce as part of the package design process.
To address these challenges, PMMI gathered insights from industry experts who will be featured on the Innovation Stage at PACK EXPO Las Vegas (Sept. 23-25, Las Vegas Convention Center).
Meeting sustainability goals in the e-commerce channel
John Wilson, Senior Marketing Manager at Amcor Flexibles North America
E-commerce packaging can be a differentiator in consumer perception of the brand and will ultimately drive higher sales. Brands are also frequently working toward ambitious company-wide sustainability goals related to packaging, so aligning those goals with the needs of survivorship, consumer engagement with the package and end of life—or next steps for recycling—can be a real challenge. An example of success in this regard is the introduction by Procter & Gamble of the Tide Smart Pouch, which reduces packaging weight and significantly decreases the opportunity for failures during transit.
There are steps companies can take to further improve packaging for e-commerce. Brands can move toward opting for more recyclable designs to achieve ISTA-6 (International Safe Transit Association) compliance. ISTA sets the standard for ensuring packages are survivable, sustainable and successful in reaching their destinations safely. The goal of this testing is to ensure manufacturers improve products and packages, which ultimately protects their reputations and bottom lines.
Companies can also eliminate extraneous secondary packaging that exists only for spill damage protection for example by implementing pouches that have excellent sealing properties and are highly resistant to breakage, which reduces the risk of damaging other products.
Amcor's Innovation Stage session (Monday, Sept. 23; 1-1:30 p.m.; Innovation Stage 3, C-1041) will tackle ways that forward-thinking CPGs can make changes that improve survivorship in the e-commerce channel and minimize the total environmental impact associated with delivering product to consumers.
Sustainability and the circular economy
Robert Flores, Vice President of Sustainability at Berry Global, Inc.
The economic model of "make, use and dispose" is becoming a process of the past as more companies embrace one simple idea: sustainability is good for the bottom line. The circular economy supports this notion. In order to realize circularity, businesses are shifting toward packaging designed for reuse, recyclability or refurbishment.
To support these companies, Berry focuses on a three-part strategy which considers its products, performance and partners. Notable components of this strategy include its commitment to making all of its packaging reusable, recyclable or compostable by 2025. These efforts are complementary to its efforts with the Alliance to End Plastic Waste and pledge to the Ellen MacArthur Foundation New Plastics Economy Global Commitment.
In response to the need for a closed material loop, Berry Global has designed beauty and personal care packaging that contains up to 100 percent post-consumer resins (PCR) called Verdant. Derived from the recycled product of waste created by consumers from other products, PCR is a true testament of the circular economy in action.
Berry Global's Innovation Stage presentation (Tuesday, Sept. 24; 10-10:30 a.m.; Innovation Stage 2, C-1045) will center on the opportunities to design packaging for optimal recyclability and minimal environmental impact. The session will explore the chemical make-up of package types, sustainability myths and package designs that can make a positive impact.
Experience the latest solutions at PACK EXPO
PACK EXPO Las Vegas attendees can visit The Reusable Packaging Pavilion (Upper South Hall), sponsored by the Reusable Packaging Association (RPA), to see sustainable packaging solutions designed to help reduce waste, cut costs and gain chain efficiency. The Containers and Materials Pavilion (Lower South Hall) will showcase the latest innovations in paperboard, glass, metal and plastic, flexible and resealable packaging as well as containers and materials. Award-nominated packaging solutions will be on display and located within The Containers and Materials Pavilion at The Showcase of Packaging Innovations®, sponsored by Dow®.
Registration, which includes access to both PACK EXPO Las Vegas and Healthcare Packaging EXPO, is $100. For more information and to register online, go to packexpolasvegas.com.
About PMMI
PMMI, The Association for Packaging and Processing Technologies, represents more than 850 North American manufacturers and suppliers of equipment, components and materials as well as providers of related equipment and services to the packaging and processing industry. We work to advance a variety of industries by connecting consumer goods companies with manufacturing solutions through the world-class PACK EXPO portfolio of trade shows, leading trade media and a wide range of resources to empower our members. The PACK EXPO trade shows unite the world of packaging and processing to advance the industries they serve: PACK EXPO International, PACK EXPO Las Vegas, Healthcare Packaging EXPO, PACK EXPO East, EXPO PACK México, EXPO PACK Guadalajara and ProFood Tech. PMMI Media Group connects manufacturers to the latest solutions, trends and innovations in packaging and processing year-round through brands including Packaging World, Automation World, Healthcare Packaging, Contract Packaging, ProFood World and OEM. PMMI Business Drivers assist members in pursuing operational excellence through workforce development initiatives, deliver actionable business intelligence on economic, market and industry trends to support members' growth strategies and actively connect the supply chain throughout the year. Learn more at pmmi.org and packexpo.com and pmmimediagroup.com.
Comments (0)
This post does not have any comments. Be the first to leave a comment below.
---
Post A Comment
You must be logged in before you can post a comment. Login now.
Featured Product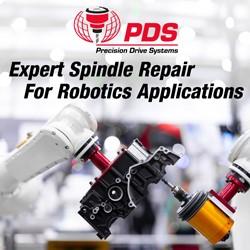 Precision components machined by CNC robot machining systems require compact, lightweight, and high-speed motorized spindles capable of delivering higher efficiency, performance, and reliability than those used in many other industries. That's why manufacturers of milling, cutting, trimming, grinding, polishing, and deburring trust Precision Drive Systems (PDS) to provide accurate and dependable spindle repair to perform to the most exacting standards.