Diligent Robotics Announces Market Launch of Moxi and $3M Seed Funding
Diligent Robotics, the AI company building socially intelligent robots that help people with their jobs, announced today that it is launching its first product, hospital robot assistant named Moxi, out of beta into market, beginning with the roll-out of Moxi into a Texas hospital starting October 2, 2019.
Along with announcing the market availability of Moxi, Diligent Robotics also announced today that it has raised $3 million in seed funding to fuel the launch of Moxi. The round was co-led by True Ventures and Ubiquity Ventures and included investment from Next Coast Ventures, Capital Factory, Pathbreaker Ventures, Boom Capital, Grit Ventures, and additional angel investors. It followed two prior fundraising rounds including a $2.1 million seed round in January 2018 led by True Ventures and early support from the National Science Foundation in the form of Small Business Innovation Research grants totaling $725,000.
Founded in 2017, Diligent Robotics has quickly become the leader in the social robotics space as the first company to build a robot with social intelligence and mobile manipulation capabilities that helps humans in their work environments. Last year, Diligent Robotics launched Moxi, recently awarded as one of Fast Company's World Changing Ideas in 2019, into beta phase which consisted of month-long trials at four U.S. hospitals. Following the positive results from Moxi's trials, Diligent Robotics has completed its beta phase and is now launching Moxi into market with full-time hospital partners.
"Our vision is to improve the way people think about their work by giving them more time to utilize their unique human skills, and let friendly robot assistants efficiently take care of their chores," said Andrea Thomaz, CEO and Co-Founder of Diligent Robotics. "We are proud to have the full support of our past investors as well as new key investors to accelerate the roll-out of Moxi robots into hospitals."
The investment from this round will support Diligent Robotics' launch of Moxi into its first full-time hospital customers and their continued investment in product strategy and development in both hardware and software.
"Over the last year, Diligent Robotics has made rapid progress in delivering and testing Moxi in multiple hospitals," said Rohit Sharma, partner at True Ventures and board member for Diligent Robotics. "The team continues to demonstrate unmatched robotics-specific innovation by combining social intelligence and human-guided learning capabilities. We're thrilled to continue our partnership with Vivian and Andrea as they build a world-class, leading robotics company."
In addition to this funding round and completing Moxi's beta phase, Diligent Robotics has reached key milestones in the last year including hiring Josh Tippy, Head of Clinical Integrations. Additionally, Diligent Robotics' CTO and Co-Founder, Vivian Chu, received MIT Technology Review's highly prestigious 35 Under 35 for 2019 award, and Thomaz was named one of Inc. Magazine's 100 Female Founders in 2019 Building America's Most Innovative & Ambitious Businesses.
"It is now obvious that robots will improve our quality of life, but only when implemented thoughtfully," said Sunil Nagaraj, partner at Ubiquity Ventures and newly named board member for Diligent Robotics. "I am lucky to partner with such an experienced and agile team as they use Moxi robots to make hospitals better places for patients, nurses, and doctors."
About Diligent Robotics
Founded in 2017, Diligent Robotics is an Austin-based A.I. company that creates robot assistants that help people with their chores so they can focus on the work they care most about. Moxi is our hospital robot assistant that helps clinical staff with routine, non-patient-facing tasks so they have more time for patient care, and hospitals save money on staff burnout and turnover costs. Moxi has been successfully trialing in several US hospitals and focuses on tasks such as gathering supplies and delivering them to patient rooms, delivering samples to the lab and retrieving items from central supply to nursing units. As a company founded by social robotics experts, we're proud to be at the forefront of creating robots that incorporate mobile manipulation, social intelligence, and human-guided learning capabilities. We believe that if we can give people the resources that they need to do the work they care most about, we will transform the meaning of "work." http://www.diligentrobots.com
About True Ventures
Founded in 2005, True Ventures is a Silicon Valley-based venture capital firm that invests in early stage technology startups. With more than $2 billion under management, True provides seed and Series A financing to entrepreneurs in today's fastest growing markets. To date, True has helped more than 250 companies launch and scale their businesses, creating over 10,000 jobs worldwide. To learn more, visit http://www.trueventures.com.
About Ubiquity Ventures
Ubiquity Ventures is a seed-stage venture capital firm that takes a "nerdy and early" approach to investing in startups pushing "software beyond the screen," rather than just on computers and smartphones. Leveraging almost a decade of institutional venture capital experience, Sunil Nagaraj leads Ubiquity Ventures and its extended team of over 40 experts with technical and marketing expertise. To learn more, visit http://www.ubiquity.vc
Comments (0)
This post does not have any comments. Be the first to leave a comment below.
---
Post A Comment
You must be logged in before you can post a comment. Login now.
Featured Product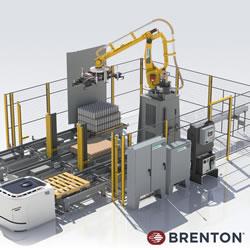 Brenton is a leader in robotic solutions with standard product offerings including palletizing and depalletizing for efficient an option for carrying hard-to-handle products, as well as larger scale systems with an optimized footprint; and case and carton loading solutions for numerous industries. In addition, Brenton works with customers on integrated solutions, offering robotics in a broad spectrum of robotics to fully integrate end of line systems. Brenton helps packaging customers protect their reputation and grow the trust of their consumers.