AI AND ROBOTICS REDEFINING THE CULINARY EXPERIENCE
For those of you who still believe that haute cuisine must be left to the Michelin-starred chefs, you would probably want to continue reading. Lately, a significant degree of research is underway on how to integrate AI and robotics in the culinary sphere. While it is true that electric appliances such as blenders, microwaves, and dishwashers have made life a little easier, a major part of cooking still remains time consuming and labor intensive. However, recent developments in AI and robotics seem to hint at a brighter future, in terms of saving time and energy spent in a kitchen; What was unimaginable till a few decades back now seems more than viable: a fully automated kitchen. Herein, Ketlor looks at some of the latest developments in this field.
The world's first fully-automated kitchen, launched by the UK-based Moley Robotics, is a one-of-its-kind innovation that challenges the idea of conventional cooking. Moley was in the pipeline for over 12 months before it set out to redefine the everyday relationship of humans with technology, in 2017. It was well-received in many robotics and trade fairs, including the Hannover Messe, one of the largest robotics shows in the world. So what exactly is Moley, and how does it work? Moley is a pair of robotic arms powered with tactile sensors that come with an elaborate crew: an electric stove, an oven, a hob, and a touchscreen unit. A 3D camera and a wired glove integrated into the unit captures the actions of a human to store it in the database; they collaborated with award-winning chef Tim Anderson whose actions were recorded by Moley, which would be later replayed and emulated by the robotic arms. The user must specify the kind of cuisine, the number of portions, desired ingredients, and dietary restrictions, etc. They have also developed a recipe-library that can be synced with iTunes and accessed remotely. This unit may be operated via a smartphone or by its touchscreen, and when not in use, the arms retract. Created in collaboration with Shadow Robotics, DYSEGNO, Yachtline, designer Sebastian Conrad and Professor Mark Cutkosky, Moley is the brainchild of Mark Oleynik, founder of Moley Robotics. They expect to release the customer version shortly.
As early as 2009, a Japanese restaurant FA-men (fully automated ramen) deployed robotic arms to automate the making of ramen. These robots could make a bowl of ramen in less than two minutes. Years later, in 2018, four former MIT graduates started another revolutionary dining experience with their restaurant in Boston, Spyce. With automated order-taking kiosks out front and automated cooking pots in the kitchen, Spyce takes the culinary experience to the next level. In collaboration with Michelin-starred chef Daniel Boulud, Spyce is the world's first restaurant featuring a robotic kitchen. They have installed seven automated cooking pots that prepare meals in under three minutes using induction technology. The set-up is placed at an angle whereby the customers can see the food being prepared. These pots even clean up after serving the dishes. However, there is no two-way interaction with these automated cooking systems. They are just an automated system sans any feedback loop.
Meanwhile, Sony released a video announcing its entry into research and development in the field of gastronomy. Partnering with Carnegie Mellon University, they are planning to develop a fully automated kitchen and service unit. One of the first few inventions in this regard, Flippy, is a robotic arm programmed to assist in kitchens. With its 3D thermal sensors, it can flip patties, fry or grill food, and even clean up after. Developed by Miso Robotics, Flippy is programmed to learn from its surroundings over time. With innovations like Flippy, hours of repetitive manual labor can be easily managed, saving time and energy.
Treading on the topic of evolving dining experience, it is also important to discuss individuals who, with their innovative creations, improved the experience of fine dining. Erika Marthins, for example, envisioned an interactive dessert experience. Her project Déguster l'augmenté comprised three desserts: 3D kinetic gelatin cubes, a light-refracting lollipop, and a rotating chocolate disc (similar to a vinyl record) that generates sound. Another unique take on cooking was by Dinara Kasko, a Ukrainian patisserie chef who made desserts inspired by architectural designs. Using silicone moulds made by Autodesk's 3ds Max software, she incorporated unique designs and aesthetics into baking.
Although in many other fields, humans and robots need to collaborate for optimum results, cooking is one such area where complete automation is possible. Therefore, the concern of unemployment among chefs is quite a possibility in the near future. While an experienced human's acumen is necessary within a large-scale kitchen, robots can now be programmed to learn new skills over time and adapt accordingly. Today some robots can even manage what is considered one of the hardest tasks in cooking: filleting a fish. Soon, even the trickier aspects of cooking, such as parboiling rice and reduction (sauces), could be automated.
Comments (0)
This post does not have any comments. Be the first to leave a comment below.
---
Post A Comment
You must be logged in before you can post a comment. Login now.
Featured Product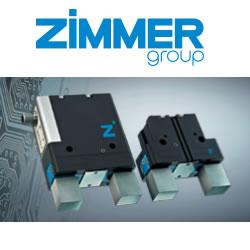 IO-Link is the first standardized IO technology worldwide for communication from the control system to the lowest level of automation.