Global impact of Covid-19 on Autonomous Last Mile Delivery Market
Automotive industry
The automotive industry is considered as one of the critical component of economic growth with an extensive interconnection to upstream such as chemicals, textiles, steel, and others, and downstream such as services related to mobility, repair, and others. Automotive industry employees around 14 million people in Europe, 8 million in U.S., and around 5 million in China which highlights the importance of this industry. In addition, the automotive industry turnover exceeds 7% of Europe GDP, 3-3.5% of U.S. and 10% of China. The automotive industry performance is directly influenced by the sales of vehicles. Any changes on the purchasing of new vehicle directly impact the sales/ business performance. The purchasing can be effected either by financial crisis, economic slow-down, or pandemic situations which hampers the automotive industry growth.
What is COVID-19?
The recent outbreak of COVID-19 in Wuhan, China has now turned into a public health emergence of international concern. The traditional public health intervention measures are less effective as there is no antiviral drug or vaccine available. In December 2019, a group of pneumonia with unknown etiology was found in Wuhan city, China. It was observe that, initial patients visited some wet seafood market where other species of wildlife were also sold. Molecular analysis and isolation of virus from human patient showed that this new pathogen was a new coronavirus (CoV), which was first named 2019-nCoV, and later was named as COVID-19 by World Health Organization (WHO). This new virus is now the seventh member of coronavirus which is known to infect humans. On January 30, 2020, with exponential increase in number of confirmed cases, WHO declared this outbreak as a public health emergency of international concern (PHEIC).
Global impact of Covid-19 on Autonomous Last Mile Delivery Market
Before COVID-19 maintained its grip across the globe, the fourth industrial revolution by World Economic Forum was declared, which has predicted a greater change in the last mile delivery services across the globe. Based on the predictions of industry experts, a growth of 20% is projected in online retail share by 2023 followed by a 10% growth in the delivery processes followed by the adoption of autonomous vehicles in last mile delivery services by 2024.
COVID-19 has created a short term disruption and long term structural changes due to which the e-commerce sector is experiencing a sluggish growth in new online categories such as groceries and home care. Due to COVID-19 pandemic, the overall sales of e-commerce business in the U.S. have increased by over 30%. Meanwhile, DHL in Germany registered an increase in parcel shipments from 5.3 million parcels to 9.0 million parcels per day, which is similar to the deliveries during Christmas time. As per the industry experts, with the increased urbanization, approximately 60% people will be living in cities in the near future and among those, 2.1 billion customers are expected to buy goods online by the year 2021. Also, the 10% eGrocery growth worldwide will result in 20-40% growth in same day delivery methods. Such types of growth in online shopping are expected to create a 75-80% growth in urban last mile deliveries by the year 2030. Meanwhile, the rising last mile demand across various cities is expected to boost the number of delivery vehicles by 36% to reach 7.2 million vehicles in 2030 from 5.3 million in 2019.
During the pandemic, families across the globe preferred to self- isolate them and opted for the method of placing online orders for their daily necessities. This has enabled the suppliers to adopt autonomous means such as drones and robots, to deliver the goods to the customer without any human involvement. The increased adoption of newer last mile options such as curbside pickup, parcel lockers, and delivery subscription were introduced which has supplemented the last mile delivery services across different nations. During the pandemic, an increased inclination towards e-commerce has been witnessed across the globe. To fulfill the delivery of orders, companies have made collaborations and partnerships with different companies to introduce driverless vehicles for package delivery. For instance, in April, 2020, a driverless vehicle startup company Pony.ai collaborated with an e-commerce company Yamibuy in Los Angeles to launch an autonomous delivery service for customers in Irvine, California.
Consumers across China preferred online shopping from companies such as JD.com, Alibaba Group, and other companies to shop virtually for their household needs rather than moving to the retail stores. In response, China based JD.com deployed its autonomous robot delivery technology to handle larger-size packages for medical and grocery deliveries. Also, numerous developments have been carried out by different companies toward introducing contact less delivery. For instance, UPS has entered into collaboration with German drone-maker Wingcopter to accelerate the adoption of aerial drones for contactless delivery.
Also, during the beginning of COVID-19 pandemic, JD.com, a Beijing based e-commerce company deployed autonomous shuttles and drones to deliver healthcare and commercial goods in different quarantine zones across Hubei, China. Such types of developments and the introduction of autonomous vehicles supporting last mile delivery have led to the growth of the market.
As per the industry experts, the online retail sales is expected to register tremendous growth and the e-commerce sector is projected to record 15% of the total retail sales in 2020. Also, during the pandemic, the online sales of existing players are expected to register a 10% to 15% growth in Europe followed by 35% growth in China in 2020. Similarly, companies such as DHL have made investments toward self-driving vehicles to supplement the need for contactless last mile delivery services. Also, Walmart registered a positive growth in its online sales business during the COVID-19 period as compared to previous years. Furthermore, the Netherlands based food giant company Ahold-Delhaize is looking to grow its business from $3.17 billion to $5.6 billion in 2020 by offering its services through autonomous last mile delivery method.
Post COVID-19
With the breakthrough in vaccination and when situation is under control, last mile delivery will certainly not look the same, as the companies are preparing for innovation shift post lift of the restrictions to rapidly assess and adapt their supply chains. For instance, an Orlando-based final mile delivery orchestration and fulfillment platform OneRail launched a new service called "QuickStart", to help retailers to curb the immediate final mile delivery capacity to support the eCommerce demand spike caused by COVID-19. Due to this platform, OneRail has registered a 700% growth in parcel deliveries by volume during the last weeks of March. Such types of innovations have also enabled the key players in the autonomous last mile delivery industry to come up with different techniques to increase their business during and after the pandemic.
So says a study
According to a recent report published by Allied Market Research, titled, Autonomous Last Mile Delivery Market gives detailed analysis of the pandemic on the market. This includes the current impact on the revenue, sales, and new measures taken by players, among others.
Comments (0)
This post does not have any comments. Be the first to leave a comment below.
---
Post A Comment
You must be logged in before you can post a comment. Login now.
Featured Product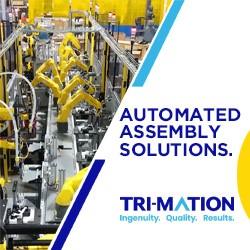 Tri-Mation reduces labor costs, improves accuracy, and production speed. Our integrators specialize in building automated assembly manufacturing systems for part production in any required volume or level of complexity.