Fulfil Solutions Emerges From Stealth With Revolutionary Robotic Automation to Make Online Grocery Profitable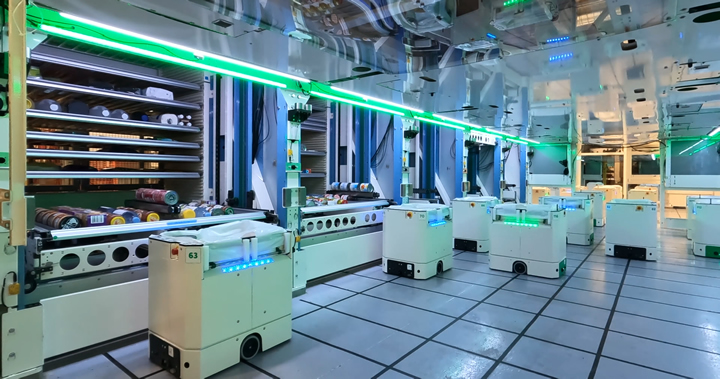 Robotics startup Fulfil Solutions today unveiled a fully automated platform to revolutionize online grocery by making it profitable and socially responsible. Unlike other automation being tested in the grocery industry, Fulfil's robots do all the picking and packing across all product categories and temperature states. As it emerged from stealth, the robotics startup also announced that it recently closed a $60 million Series B round of funding led by Eclipse with participation from Khosla Ventures and DCVC.
Fulfil's robotics platform uniquely solves several challenges in the online grocery business. Although grocery e-commerce has soared in popularity since the pandemic and is expected to see annual sales double to $200 billion in the US alone by 2027, the cost to manually fulfill online grocery orders results in a loss – even before delivery costs are factored in. As a result, online grocery is very expensive for customers, pick-up can be inconvenient, and product substitutions occur frequently. Moreover, inefficient inventory management in grocery stores is a key reason a third of food is wasted globally – resulting in carbon emissions from food waste being nearly equal to that of all road transportation, combined, according to the United Nations.
"To address the many challenges facing online grocery, retailers must adopt efficient automation that substantially reduces costs and provides the accuracy, quality and convenience customers expect," said Fulfil CEO and President Mir Aamir. "That's why our fully automated solution represents such a revolutionary step forward. Not only does it make online grocery retailing profitable while meeting customer expectations, but it also prioritizes social and environmental responsibility by cutting carbon emissions, eliminating food waste and enabling healthier food to reach more households at lower cost."
Fulfil opened its first automated dark store, or micro-fulfillment warehouse, a few months ago in the San Francisco Bay Area city of Mountain View, in partnership with The Save Mart Companies, to power a same-day grocery delivery and pick-up service called Lucky Now. Within minutes of receiving an order, Fulfil's robots accurately pick all categories of groceries – including refrigerated and frozen goods. The robots then bring packed grocery bags to a waiting area where drivers collect them. To see a video of the robots in action at the Mountain View facility, visit https://www.fulfil.com/technology.
Fulfil's differentiated platform leverages advanced AI, machine learning, and optical and sensor technologies to enable next-generation inventory management and quality control. Within the warehouse, Fulfil's proprietary dispense stations handle any grocery item with computer-vision precision, and sensor fusion algorithms confirm that every item is packed successfully. Fulfil's mobile robots split and sequence items to prevent damage and minimize pack time, while dispense stations redistribute inventory to balance load. A database tracks every item's location, origin and expiration for a new level of real-time inventory management that enables perfect order accuracy and minimizes waste.
"The Save Mart Companies is thrilled to embrace innovative technologies that help deliver on-demand groceries to our customers on their own terms," said Shane Sampson, Executive Chairman of the Board, The Save Mart Companies. "With Lucky Now, powered by Fulfil's robotic automation, we are excited to offer the best value on local and fresh products that our shoppers have come to know and trust."
"Today's online grocery business is built on manual, wasteful and expensive processes. Mir and the team at Fulfil have successfully developed a highly differentiated, full-stack solution to automate the $1 trillion grocery industry by automating all picking and packing," said Jay Knafel, Early Growth Partner at Eclipse. "We're thrilled to continue our support of Fulfil, by leading their Series B, as they demonstrate their ability to unlock value for businesses and end customers, while advancing sustainability goals."
About Fulfil
Fulfil Solutions Inc. has invented a completely unique, fully automated fulfillment system to enable customer-centric, sustainable and profitable online grocery at scale. Unlike other automation being tested in the grocery industry, Fulfil's robots do all the picking and packing across all product categories and temperature states. Fulfil's automated platform can be customized to meet the needs of grocery stores of any size anywhere in the world. For more information, visit www.fulfil.com.
About The Save Mart Companies
The Save Mart Companies, a Kingswood Capital Management, LP portfolio company and a California-based grocer, operates approximately 200 Save Mart, Lucky California, and FoodMaxx stores in the California Central Valley, Bay Area, and Northern Nevada. In addition to its retail operation, the Company also operates SMART Refrigerated Transport and is a partner in Super Store Industries ("SSI"), which owns and operates a distribution center in Lathrop, and the Sunnyside Farms dairy processing plant in Turlock. Proud to be California's largest regional, full-service grocery chain throughout the region, the Company and its 14,000 team members take extra care to help provide customers with the freshest foods for their families at affordable prices. For more information, visit www.thesavemartcompanies.com.
About Eclipse
With ~$3.8 billion* in assets under management, over 80 portfolio companies, and a team of investors with deep operating expertise in technology, manufacturing, supply chain, logistics, healthcare and consumer products, Eclipse is a leading U.S. venture capital firm. Its leadership team has the experience necessary to create and scale complex operations. Eclipse partners with exceptional companies that make physical industries more efficient, resilient, and profitable. For more information, visit www.eclipse.vc.
*regulatory assets reflected as of December 12, 2022
Comments (0)
This post does not have any comments. Be the first to leave a comment below.
---
Post A Comment
You must be logged in before you can post a comment. Login now.
Featured Product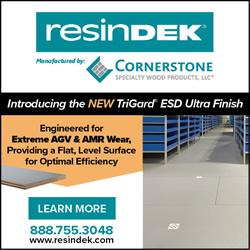 To maximize the productivity of an autonomous mobile robot (AMR) or automatic guided vehicle (AGV) deployment, it's critical to create the optimal environment that allows the vehicles to perform at their peak. For that reason, Cornerstone Specialty Wood Products, LLC® (www.resindek.com) created the TriGard® ESD Ultra finish for its ResinDek® engineered flooring panels. The TriGard ESD Ultra finish is ideal for high-traffic robotic applications characterized by highly repetitive movement patterns and defined travel paths.