Third Wave Automation Announces Strategic Investment from Qualcomm Ventures and Zebra Technologies
Third Wave Automation (TWA), provider of high-reach autonomous forklifts, today announced a strategic investment by Qualcomm Ventures and Zebra Technologies, bringing total funding to $70 million.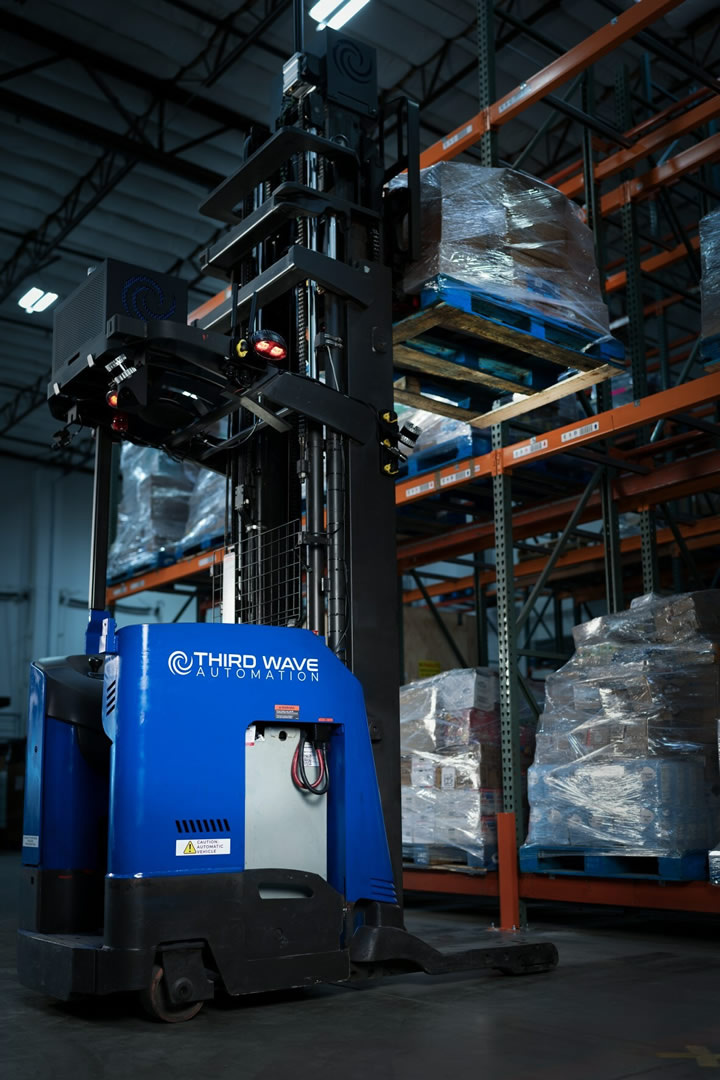 "The increasing adoption of advanced robotics, artificial intelligence (AI) and 5G connectivity is facilitating the use of autonomous solutions within the warehouse," said Carlos Kokron, vice president, Qualcomm Technologies, Inc. and managing director, Qualcomm Ventures Americas. "Third Wave Automation's shared autonomy approach with continuous learning capabilities delivers immediate value to the customers by easily integrating with existing workflows while enhancing labor productivity and safety. We are excited to invest in Third Wave Automation to bring next-generation autonomy to the forklifts."
The strategic investment will enable TWA to accelerate new innovations as its first product expands its select pilot program. With the funding, TWA plans to expand its market offerings, accelerate new solutions for automating other classes of forklifts, including narrow aisle and counterbalance trucks and integrate with automation solutions, such as Fetch Robotics, which is now part of Zebra Technologies.
"As our supply chain customers continue to battle labor shortages, they are turning to automation solutions to improve productivity. TWA's autonomous, high-reach fork trucks streamline warehouse workflows, enabling operators to increase throughput and lower costs while also improving worker safety," said Tony Palcheck, managing director of Zebra Ventures at Zebra Technologies. "TWA's approach aligns with Zebra's goals, and we look forward to working with Arshan and the Third Wave team to improve material handling operations."
TWA Reach Offers Ultimate Flexibility with Four Deployment Modalities
TWA Reach is the only forklift automation solution on the market today that offers users the flexibility to deploy their fleet in four modalities – fully autonomous, remote operation, remote assist and traditional manual operation. The TWA Reach, which was named One of the Best Robots of CES 2023, is a fully automated reach truck solution that can operate in 10+ foot aisles up to 366 inches high in base configurations. Because it can easily integrate into existing workflows with no costly infrastructure changes commonly required by traditional automation solutions, users can see an immediate impact with the TWA Reach solution. In pilot deployments, TWA Reach has been instrumental in enabling users to meet their daily quota of throughput in inbound putaway, replenishment and outbound workflows.
"After successfully deploying our solution with key pilot customers, we are excited to expand the TWA Reach pilot program. This enables us to explore additional automation workflows and continue deploying flexible forklift automation technology," said Arshan Poursohi, TWA's co-founder and CEO. "With the strategic investment from Qualcomm Ventures and Zebra Technologies, we look forward to scaling production of our forktrucks, deploying them with new customers in a wide variety of sites, continuing to innovate with new applications and additional materials handling vehicles, and perfecting our fleet management."
The TWA Reach forklifts utilize TWA's core automation technology and collaborative autonomy platform, which leverages AI and machine learning to enable remote operation and assistance, intelligent fleet management and continuous learning capabilities to provide holistic materials handling solutions that improve over time. TWA's fleet management system provides the visibility and tools needed to effectively manage users' fleets of automated forklifts and respond to robot assists in a timely and effective manner. With a focus on user experience, TWA's operator-first approach ensures that edge cases are resolved quickly to enable a high level of performance in warehouse operations.
TWA will be demonstrating its TWA Reach automation solution in booth N6151 at ProMat 2023, taking place March 20-23 in Chicago. There, TWA also will participate and host sessions on adopting automation and what's now possible in supply chain robotics, which includes one of its first major 3PL customers.
About Third Wave Automation
Third Wave Automation™ (TWA) was founded in 2018 in Union City, Calif., to alleviate increasing supply chain stress using intelligent automation products and services. The first of its products, the TWA Reach, is the only forklift automation solution on the market today that offers users the flexibility to deploy their fleet in four modes – fully autonomous, remote operation, remote assist and manual operation. TWA brings people and automated systems together to improve throughput, efficiency and safety beyond what people or automation could achieve alone.
Leveraging machine learning and artificial intelligence to create its collaborative autonomy platform, TWA's fleet management system provides the visibility and tools needed to effectively manage fleets of automated forklifts and respond to edge cases in a timely and effective manner. The Third Wave Automation solution easily integrates into existing workflows with no costly infrastructure changes commonly required by traditional automation solutions and gives customers an immediate impact with benefits from day one. For more information, visit thirdwave.ai.
About Qualcomm Ventures
Qualcomm Ventures is the venture capital arm of Qualcomm Incorporated and is based in San Diego, California with several satellite offices located throughout the world. Founded in 2000, Qualcomm Ventures is a corporate venture capital fund with over 150 active portfolio companies and more than 20 exits over a billion dollars, including 99 Taxis, Cruise Automation, Fitbit, Invensense, NQ Mobile, Waze and more. As a global investor, Qualcomm Ventures helps connect entrepreneurs to the resources, relationships and deep industry expertise they need to succeed in the mobile technology ecosystem. The group is focused on early to late stage investments in the mobile/wireless sector with strong interests in 5G, IoT, Connected Automotive, AI, Consumer and Enterprise & Cloud.
About Zebra Technologies
Zebra (NASDAQ: ZBRA) empowers organizations to thrive in the on-demand economy by making every front-line worker and asset at the edge visible, connected and fully optimized. With an ecosystem of more than 10,000 partners across more than 100 countries, Zebra serves customers of all sizes – including 84% of the Fortune 500 – with an award-winning portfolio of hardware, software, services and solutions that digitize and automate workflows. Supply chains are more dynamic, customers and patients are better served, and workers are more engaged when they utilize Zebra innovations that help them sense, analyze and act in real time. Zebra recently expanded its industrial automation portfolio with its Fetch Robotics acquisition and increased its machine vision and AI software capabilities with the acquisitions of Adaptive Vision, antuit.ai and Matrox Imaging. Zebra is #42 on Newsweek's inaugural list of America's Most Loved Workplaces, #42 on Fast Company's list of the Best Workplaces for Innovators and #79 on Forbes' list of America's 500 Best Midsize Employers. Learn more at www.zebra.com or sign up for news alerts. Follow Zebra's Your Edge blog, LinkedIn, Twitter and Facebook, and check out our Story Hub: Zebra Perspectives.
Comments (0)
This post does not have any comments. Be the first to leave a comment below.
---
Post A Comment
You must be logged in before you can post a comment. Login now.
Featured Product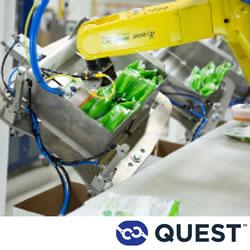 Quest is a leading manufacturer of industrial automation equipment focusing on robotics and vision-guidance. With expertise in the food, beverage, and dairy, Quest optimizes floor space for customers experiencing growing demand and helps improve their overall production line flexibility and efficiency. Quest offers application-specific software on their robotic products, including pick and place, case packing, and palletizing systems to simplify system setup and streamline configurability. Quest is a product brand of ProMach, a global leader in packaging line solutions.