Geek+ drives automation of advanced BMW-producing plant in China
Geek+, the global leader in AMR technology, and BMW Brilliance Automotive (BBA), one of China's leading premium automotive manufacturers, announce the automation of a highly advanced BMW-producing factory in China with Geek+'s goods-to-person picking solution. This makes it the world's leading­ BMW-producing facility with goods-to-person AMRs.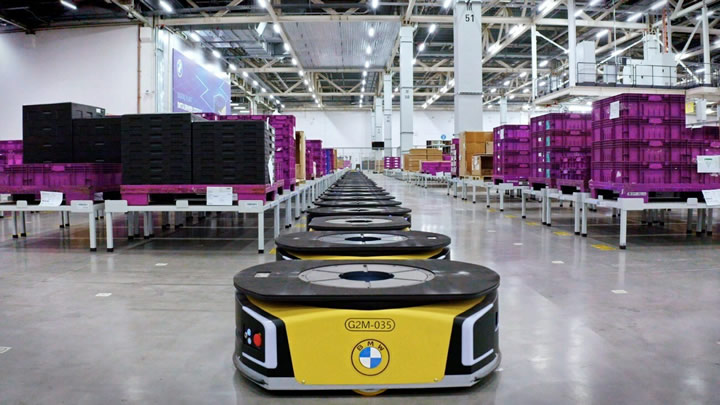 Geek+ brings its AMR expertise to premium car manufacturer BMW Brilliance Automotive's vehicle production facility to strengthen digitalization and end-to-end value chain.
Geek+ AMR solutions in motion at BMW Brilliance Automotive's Chinese facility.
BBA's plant was the first BMW factory in China, and produces iconic vehicles, such as the BMW 5-series, the new X5, and the innovative all-electric iX3. In order to modernize operations and keep up with accelerating demand, BBA chose Geek+'s game-changing goods-to-person solution to shift operations up a gear. The solution was deployed at high speed: The AMRs were in place and underway ahead of schedule in only two months from start to finish.
The plant represents a significant milestone for both companies on the road to Industry 4.0. BBA and Geek+ are working together to develop both software and hardware to power the digital intelligence upgrade. The new software aims to refine warehouse management systems by connecting upstream and downstream systems, while hardware upgrades include customization of the AMRs to meet the unique requirements of BMW and the auto industry.
Ralf Schieder, vice president of BBA Strategy and Logistics, said: "This project is an important step in BMW Brilliance's move towards smart manufacturing and digital factories, and a key milestone in our logistics transformation! I like to call it 'collaborative innovation.' We worked closely with Geek+ to develop an efficient and flexible smart logistics solution, which not only realized the integration and coherence of the warehouse management system, but also provided us with more flexible and faster solutions for future upgrades and renovations, setting a model of a people-oriented sustainable green factory for the industry."

Yong Zheng, founder and CEO at Geek+, said: "AMR technology holds tremendous potential for the automotive industry, and we are very proud to be able to demonstrate that with what we've achieved with BMW Brilliance Automotive. Working together to create digital logistics and advancing the digital standard in the auto manufacturing industry has been a real pleasure. This digital upgrade definitely puts BBA in the driver's seat for the ongoing digital transformation in their industry."

In addition to producing high-end cars, the plant is also recognized for its highly sustainable advanced production technology, environmentally friendly plant design, and various environmental protection and energy-saving measures. Geek+ and BBA will continue to build on this success by optimizing operational processes and human-robot interaction to produce automobiles ready for whatever roads lay ahead.

About BMW Brilliance Automotive

Founded in May 2003, BMW Brilliance Automotive Ltd. (BBA) is a joint venture between the BMW Group and Brilliance China Automotive Holdings Ltd. Business operations of BBA include production, sales and after-sales services of BMW automobiles in China. BBA has a state-of-the-art production base in Shenyang, Liaoning Province, a branch company in Beijing and an extensive national sales and service network. The joint venture employees around 20,000 people and has a network of nearly 400 local suppliers. It has been the top taxpayer in Shenyang for 14 consecutive years.
About Geek+
Geek+ is a global leader in robotic solutions for logistics. We develop Autonomous Mobile-Robot (AMR) solutions to realize flexible, reliable, and highly efficient automation for warehouses and supply chain management. Geek+ is trusted by over 700 global industry leaders and has been recognized as the world leader in autonomous mobile robots. Founded in 2015, Geek+ has over 1,500 employees, with offices in the United States, Germany, the United Kingdom, Japan, South Korea, Mainland China, Hong Kong SAR, and Singapore.
For more information, please visit: https://www.geekplus.com/
Comments (0)
This post does not have any comments. Be the first to leave a comment below.
---
Post A Comment
You must be logged in before you can post a comment. Login now.
Featured Product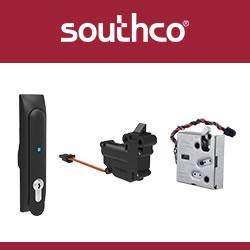 Many robotics engineers need to securely mount and latch sensitive electronic components in their robotics applications; Southco is able to help reduce theft and vandalism with our proven and reliable access technologies. Learn how Southco can help secure your robotics, or other smart city application, from theft and vandalism.