Sarcos and Blattner Company Sign Agreement for Development of Autonomous Robotic Solar Construction System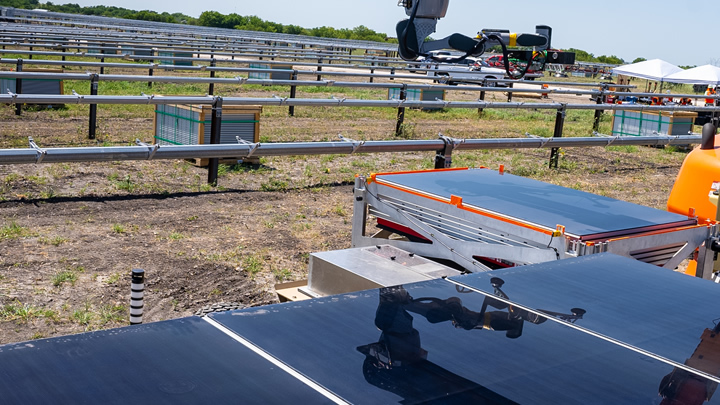 Sarcos Technology and Robotics Corporation ("Sarcos") (NASDAQ: STRC and STRCW), a leader in the design, development, and manufacture of advanced robotic systems, solutions, and software that redefine human possibilities, and Blattner Company ("Blattner"), an industry-leading provider and installer of renewable energy, announced that the companies have entered into a collaboration agreement. The agreement focuses on the development and refinement of Sarcos' autonomous mobile robotic system designed to optimize employee safety and enhance the efficiency of the installation of photovoltaic (PV) modules for utility-scale solar projects.
"Like many industries, the solar construction industry is experiencing significant worker shortages post-COVID and has not yet recovered," said Laura Peterson, Interim President and CEO, Sarcos. "Our autonomous robotic solar construction system is expected to ease these workforce challenges while improving overall safety and speed in the solar installation process."
Robotic technology is becoming critical to the global effort to increase solar power output, given worker shortages and the labor-intensive solar installation process. According to the Solar Energy Industries Association (SEIA), annual solar installations will need to increase by 60% through 2030 in order to meet climate targets, which would require nearly 800,000 new solar workers to meet this goal. Robotics hold the promise of increasing worker productivity to mitigate labor pressures in this market while simultaneously improving safety on the job. Blattner is committed to finding safe and effective solutions to meet the outlined aggressive climate targets while providing a positive and healthy work environment for its growing project teams. This partnership aims to satisfy both parties' objectives.
"We are extremely optimistic about the use of robots for solar construction to help address the workforce shortages, productivity, and safety challenges that are currently slowing down the progress of U.S. solar initiatives," said Matt Hadsell, Senior Manager-Innovation and Development, Blattner. "We are committed to working with Sarcos to refine their autonomous robotic solar construction system so that we can be one step closer to achieving our nation's clean energy goals."
This effort will also build upon the Sarcos Outdoor Autonomous Manipulation of Photovoltaic Panels (O-AMPP) project, which is funded through the support of the U.S. Department of Energy's Solar Energy Technologies Office (SETO) and aims to streamline the process of solar field construction. The robotic system is being designed and developed to deliver, detect, lift, and place PV modules in the field with the goals of:
Improving worker safety and productivity: The O-AMPP system will enable a smaller installation team to install modules at a substantially higher rate while optimizing safety.
Improving construction speed: The O-AMPP system will enable faster installation speeds of PV modules, often the most labor-intensive task when constructing a PV site.
Improving installation quality: Robotic handling of modules will ensure that as modules are picked up and placed, they are consistently supported and positioned, resulting in less module breakage.
Sarcos and Blattner are collaborating to evaluate and further refine the technology, functionality, and safety of this system through a series of field trials that will occur over the next several years in which Blattner will provide funding, expertise, and facilities for testing. The companies intend to test the system through varying environmental conditions across different sites in preparation for Sarcos' commercial launch of the system, currently estimated for late 2024.
The innovative efforts of Sarcos and Blattner will lay important groundwork for shaping the future of solar energy installation for the industry as a whole and provide valuable data for determining the potential of automation and workforce evolution within the industry.
For more information on Sarcos and its robotics solutions for the solar industry, please visit www.sarcos.com. For more information on Blattner and its renewable energy expertise, please visit www.blattnercompany.com.
About Sarcos Technology and Robotics Corporation
Sarcos Technology and Robotics Corporation (NASDAQ: STRC and STRCW) designs, develops, and manufactures a broad range of advanced mobile robotic systems, solutions, and software that redefine human possibilities and are designed to enable the safest most productive workforce in the world. Sarcos robotic systems operate in challenging, unstructured, industrial environments and include teleoperated robotic systems, a powered robotic exoskeleton, and software solutions that enable task autonomy. For more information, please visit www.sarcos.com and connect with us on LinkedIn at www.linkedin.com/company/sarcos.
About Blattner
Blattner Company is Leading America to a Clean Energy Future. With more than 115 years of construction experience, the company has played a vital role in building America's critical infrastructure, ranging from railroads and highways to dams and mines. Since 1997, Blattner has focused on renewable energy solutions and is responsible for the construction of some of the most significant solar, wind, transmission and energy storage projects in the U.S. and Canada. Blattner has installed more than 25% of America's total solar and wind energy capacity. Blattner Company is the parent company of Blattner Energy and D.H. Blattner & Sons, of which all are members of the Quanta Services family of companies. Company headquarters are in Avon, Minnesota.
Comments (0)
This post does not have any comments. Be the first to leave a comment below.
---
Post A Comment
You must be logged in before you can post a comment. Login now.
Featured Product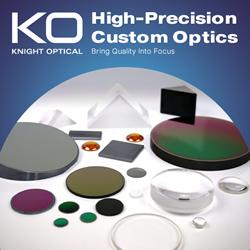 In the era of Industry 4.0, automation and machine learning drive the future. Knight Optical stands at the forefront, collaborating globally to supply precision optical components that power the robotics and automation sector. From UAVs, drones, and robotics to machine vision, LiDAR-driven car sensors, and renewable energy, our optics empower innovation. Optical components play an important role within the industry, including: Optical windows and domes safeguard systems in unmanned vehicles while preserving the field of view for cameras. Infrared lenses with aspheric surfaces elevate thermal imaging. Optical filters excel in machine vision, with colour glass, interference, and dichroic filters in our stock. Knight Optical provides stock components and custom solutions made to your exact specs. With every component undergoing rigorous metrology and QA checks before shipment, you are sure to experience true precision, innovation, and assurance.