Morphobots for Mars: Caltech Develops All-Terrain Robot as Candidate for NASA Mission
University unveils its NVIDIA Jetson-powered M4 Morphobot for search and rescue, delivery and possibilities that are out of this world.
Academics Mory Gharib and Alireza Ramezani in 2020 were spitballing a transforming robot that is now getting a shot at work that's literally out of this world: NASA Mars Rover missions.
CalTech has unveiled its multi-talented robot that can fly, drive, walk and do eight permutations of motions through a combination of its skills. They call it the Multi-Modal Mobility Morphobot, or M4, which is enabled by the NVIDIA Jetson platform for edge AI and robotics.
"It grew in the number of functions that we wanted to do," said Gharib, a professor of aeronautics and bioinspired engineering at Caltech. "When we proposed it to our design team, at first they all said, 'no.'"
CalTech funded its initial research, and NASA and its Jet Propulsion Lab (JPL) funded its next phase and brought in Ramezani, an assistant professor of electrical and computer engineering at Northeastern University, as a faculty researcher at JPL last summer to develop it further.
Its M42 version is now under development at NASA as a Mars Rover candidate and has interest from the U.S. Department of Transportation, Gharib said.
"At NASA, we're being tested right now for transforming while landing," he said. And since recently releasing a paper on it in Nature Communications, Gharib says he's been inundated with proposals.
"We're kind of dizzy about how it suddenly got so much attention," he said. "Different organizations want to do different things and are coming to approach us."
Firefighting, Search and Rescue Operations
The CalTech team behind the paper — Gharib and Ramezani, as well as Eric Sihite, a postdoctoral scholar research associate in aerospace at Caltech; Arash Kalantari, from JPL; and Reza Nemovi, a design engineer at CAST — said the M4 is designed for diverse mission requirements in search and rescue, among other areas.
For example, when it's not feasible to roll or walk into areas — like fire zones — it can fly and do reconnaissance to assess situations using its cameras and sensors.
According to Gharib, multiple fire departments in the Los Angeles area have contacted Gharib with interest in the M4.
"For first responders, this is huge because you need to land in a safe area and then drive into the situation," he said.
Versatile Drone Deliveries to Get the Job Done
CalTech's team also aims to solve complications with drone deliveries using the M4. Drone deliveries are the "low hanging fruit," for this robot, said Gharib.
Traditional drones for deliveries are problematic because nobody wants drones landing near their home or business for safety reasons, he said. The M4 can land somewhere isolated from people and then drive to finish deliveries, making it a safer option, he added. The M4 can also fly into areas where truck deliveries might have a difficult time getting into or can't offer delivery service at all.
"There are a lot of places where truck deliveries can't go," he said. Right now, the M4 is capable of traveling as fast as 40 mph, and its battery can last up to 30 minutes on a charge. But the team is working to design larger drones with longer flight times, bigger payloads and increased travel distances.
The sky's the limit.
Comments (0)
This post does not have any comments. Be the first to leave a comment below.
---
Post A Comment
You must be logged in before you can post a comment. Login now.
Featured Product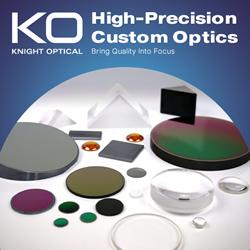 In the era of Industry 4.0, automation and machine learning drive the future. Knight Optical stands at the forefront, collaborating globally to supply precision optical components that power the robotics and automation sector. From UAVs, drones, and robotics to machine vision, LiDAR-driven car sensors, and renewable energy, our optics empower innovation. Optical components play an important role within the industry, including: Optical windows and domes safeguard systems in unmanned vehicles while preserving the field of view for cameras. Infrared lenses with aspheric surfaces elevate thermal imaging. Optical filters excel in machine vision, with colour glass, interference, and dichroic filters in our stock. Knight Optical provides stock components and custom solutions made to your exact specs. With every component undergoing rigorous metrology and QA checks before shipment, you are sure to experience true precision, innovation, and assurance.