Mobile Robotics - Increasing Flexibility Enables Increasing Efficiency in Logistics
Mobile robots have experienced substantial growth in the last decade due to their autonomous mobility, which has been propelled by advancements in robotics technology, autonomous navigation, and artificial intelligence. IDTechEx's market research report, titled "Mobile Robotics in Logistics, Warehousing, and Delivery 2024-2044", delves into the technical, regulatory, and market aspects influencing the emerging logistics mobile robot industry.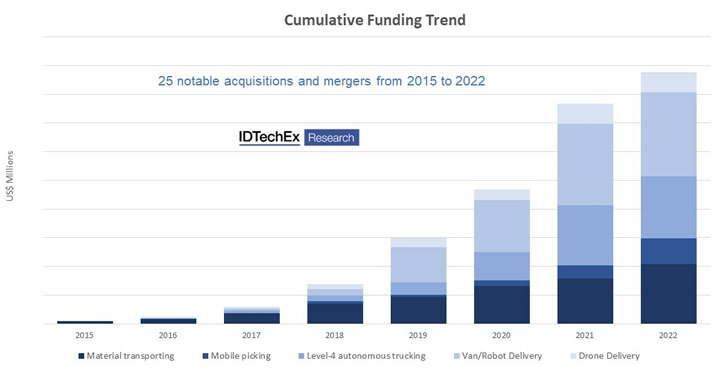 According to IDTechEx's research, there has been a significant cumulative increase in funding for various types of mobile robots (e.g., mobile picking, intralogistics, material handling, etc.) from 2015 to 2022. This trend highlights the potential of mobile robots to automate various logistics operations, including material handling, material picking, long-haul distribution, and last-mile delivery. As of 2023, some applications, such as material transport using automated guided vehicles (AGVs), have already reached a mature stage, attracting billions of dollars in annual revenue. However, other applications, like drone delivery, are still emerging and are not expected to see widespread deployment until the end of this decade due to regulatory constraints and specific technological challenges.
Despite varying market readiness levels, each segment is experiencing rapid growth, with instances of technology giants acquiring start-up companies. Some noteworthy recent examples include the acquisition of Robotnik by United Robotics Group, Amazon's acquisition of iRobot, and the merger of Mobile Industrial Robots (MiR, a Teradyne company) with AutoGuide Mobile Robots.
IDTechEx's report, "Mobile Robotics in Logistics, Warehousing and Delivery 2024-2044", examines the key products used in various logistics operations, including AGVs (e.g., tow tractors, forklift AGVs, unit load carts, 'goods to person' grid based AGVs, etc.), autonomous mobile robots (AMRs), case-picking robots, mobile manipulators, heavy load autonomous mobile vehicles (AMVs), and last-mile delivery robots (vans, sidewalk robots, and drones). The report highlighted recent technology advancements and commercial transitions, such as how Amazon's first fully autonomous mobile robot, Proteus, is expected to drive the adoption of AMRs in warehouses.
In terms of the technology, IDTechEx analyzed the teardown components of various mobile robots to offer an in-depth technology analysis of emerging technologies underpinning the growth of mobile robots. These technologies range from sensors such as LiDAR, ultrasonic sensors, and cameras to software such as computer vision, simultaneous localization and mapping (SLAM), and other navigation and sensing technologies. IDTechEx interviewed a number of industry players ranging from leading companies such as Omron, MiR, and ForwardX Robotics to mid-sized companies and start-ups to discuss the unique value propositions of their technologies, how they can help to address the pain points, along with the most updated business information such as regulatory approvals, funding status, and latest flagship products.
One of the transitions IDTechEx spotted is the transition from AGVs to AMRs. AGVs have been widely adopted in many warehouses. Unlike AMRs, AGVs rely on infrastructures such as magnetic tapes, QR codes, and markers to navigate. Although this provides high navigation accuracy, it increases the total cost of setting up the infrastructure and restricts the flexibility of AGVs. With the emerging SLAM technology and more companies demanding flexible operation, IDTechEx has noticed a few AMRs being used in factories and warehouses, for example, Amazon's Proteus. The IDTechEx report analyzes both AGVs and AMRs and provides an independent analysis of what scenarios these two robot types would be favorable to users.
The report also provides 20-year market forecasts for the future of mobile robotics in the logistics industry, including granular breakdowns by application area and product categories. Through IDTechEx's research, the yearly market size of mobile robots (L4 trucks exclusive) will reach around US$150 billion, representing significant opportunities for component suppliers, robot OEMs, and end-users.
To find out more about IDTechEx's technical and commercial analysis of mobile robotics in the logistics industry, please see the IDTechEx report, "Mobile Robotics in Logistics, Warehousing, and Delivery 2024-2044".
Free-to-Attend Upcoming Webinar
Mobile Robotics in Logistics - Over 20-fold Revenue Increase in the Next Two Decades
Yulin Wang, Technology Analyst at IDTechEx and author of this article, will be presenting a free-to-attend webinar on the topic on Tuesday 10 October 2023 - Mobile Robotics in Logistics - Over 20-fold Revenue Increase in the Next Two Decades.
The webinar's agenda includes the following topics:
An overview of mobile robots and a breakdown of different types of mobile robots used in logistics
Exploring the reasons behind the rapid growth of mobile robots in logistics and the benefits they offer to various industries
Discussion of the fundamental technologies and components that empower mobile robot systems
Analyzing the present state of the market, including noteworthy developments such as acquisitions and new product launches by industry leaders
Delving into the obstacles and regulatory considerations that mobile robots face, along with a timeline for addressing these challenges
Providing an overview of IDTechEx's independent forecast for the future of mobile robots in the logistics sector
Click here to find out more and register your place on one of the three sessions on the 10th October.
About IDTechEx
IDTechEx guides your strategic business decisions through its Research, Subscription and Consultancy products, helping you profit from emerging technologies. For more information, contact research@IDTechEx.com or visit www.IDTechEx.com.
Comments (0)
This post does not have any comments. Be the first to leave a comment below.
---
Post A Comment
You must be logged in before you can post a comment. Login now.
Featured Product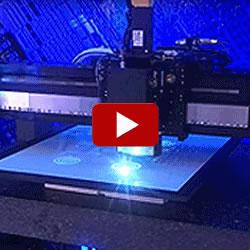 A traditional gantry system employs X-Y or X-Y-Z range of motion. Mounted on a base plate, usually granite, 2 parallel rails constitute the synchronized Y axis motion while the cross axis (bridge axis) provides the X motion. A vertical axis can be added on the bridge for the Z motion. A Split Bridge system can be less complex than a traditional gantry system because synchronization of the two parallel linear motors is not required. Both systems are used in industrial production, testing, and additive manufacturing.