Rain Announces $9.7M in Seed Financing to Enable Rapid Wildfire Response with Prepositioned Autonomous Aircraft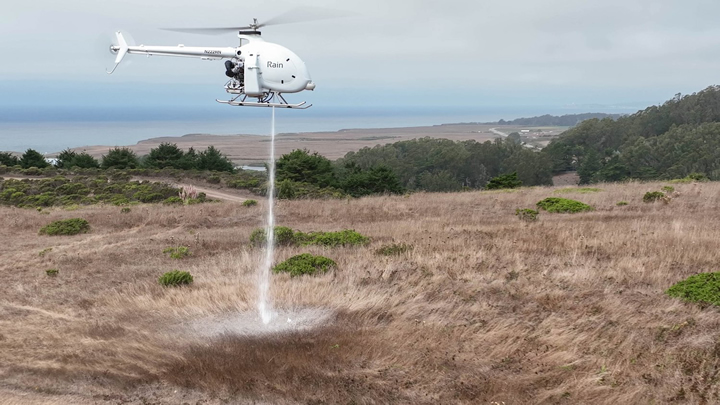 Last fall, Rain equipped a small helicopter with firefighting gear and sensors to demonstrate an end-to-end wildfire mission. Rain technology enables fire agencies to rapidly contain early-stage wildfire ignitions with autonomous helicopters prepositioned in high risk areas.
Rain, a leader in aerial wildfire containment technology, announced an oversubscribed seed round, closing $9.7 million in financing earlier this year to provide fire agencies the ability to contain wildfires before they grow out of control with prepositioned autonomous aircraft. DBL Partners led the round, with participation from VoLo Earth Ventures, Kapor Capital, and Convective Capital. Other investors include Immad Akhund, Brian Bjelde, Steve Blank, John and Patrick Collison, Edward Fenster, Dylan Field, Nat Friedman, Daniel Gross, Geoff Ralston, and Blake Scholl. The funding will be used to advance pilot projects in the United States.
Founded in 2019, Rain draws on fire agency insights and personal experience with extreme wildfire to create the first autonomous rapid wildfire suppression system, addressing the urgent need to scale, expedite and modernize response to the growing number of wildfires.
Rain adapts autonomous aircraft with a wildfire intelligence system to rapidly perceive, understand and suppress early-stage wildfire ignitions, capabilities not yet seen in wildfire technology. This technology enables the prepositioning of firefighting aircraft in high wildfire risk areas and works with existing wildfire detection systems that remotely dispatch Rain-equipped aircraft as soon as ignition is detected, deploying the aircraft within seconds and reaching a nascent fire within minutes. New research shows that a 15 minute improvement to wildfire response time could generate an economic benefit of $3.5-8.2 billion dollars in California alone. In the U.S. total annualized costs associated with wildfire average $348 billion per year. With extreme wildfires estimated to rise 14% by 2030, the collective problem is only getting worse.
"As I write this, my hometown is burning. Paradise, Greenville, Lytton, Lahaina and too many other towns have burned to the ground," said Maxwell Brodie, Rain CEO and co-founder. "Every year catastrophic wildfires claim lives, destroy entire communities, and diminish the carbon reduction efforts of nations and states. Rain's technology enables a wildfire response time so fast that we can actually stop fires before they have a chance to grow out of control. Early response timing, like any emergency, can make all the difference in a successful outcome."
"Catastrophic wildfires are a climate flywheel we cannot ignore," said Nancy Pfund, Founder and Managing Partner, DBL Partners and board member at Rain. "18% of total global fossil fuel CO2 emissions were emitted by wildfires in 2021. The CO2 emissions from the 2023 Canadian wildfires are approaching three times the annual emissions of the state of California. Working with firefighting professionals, land owners and managers, conservation experts, residents, government officials, insurers, utilities and other constituencies, Rain can help to catalyze a new, more effective approach to preventing the spread of unwanted wildfires. Rain's 21st century technology not only promises to drive better wildfire outcomes, it will also help to create important new markets, and jobs. As an impact venture capital firm, we at DBL see Rain's mission as the epitome of Double Bottom Line Investing."
So far in 2023, both the White House and Congress have authored policy guidance encouraging or requiring fire agencies to develop plans to adopt autonomous aircraft for rapid wildfire suppression. "Forests have reached a critical tipping point, releasing more carbon due to wildfire than they are able to store. Rain's platform, as the future of autonomous aircraft for wildfire protection, will save billions of dollars in expense and allow insurers the ability to improve their wildfire risk adoption, protecting property, electric grids, and human and planetary health," stated investor Kareem Dabbagh, Co-Founder & Managing Partner, VoLo Earth Ventures.
"The steady rise of catastrophic wildfires is plain to see. Aerial firefighting is one of the most important use cases for autonomous flight, where Rain's technological leaps can shorten response times, keep pilots out of harm's way, and increase total fire suppression capabilities at a time when we sorely need them," said John Collison, President of Stripe. "Bring on the firefighter drones!"
About Rain
Rain, a leader in aerial wildfire containment technology, is helping fire agencies more rapidly suppress wildfires during the earliest stages of ignition, before they grow out of control. Rain adapts autonomous aircraft with wildfire intelligence to rapidly perceive, understand, and suppress wildfires, which enables numerous aircraft to be prepositioned in remote locations resulting in accelerated response time. Developed in tandem with fire professionals, Rain is a privately held company headquartered in Alameda, California. Visit www.rain.aero for more information.
Comments (0)
This post does not have any comments. Be the first to leave a comment below.
---
Post A Comment
You must be logged in before you can post a comment. Login now.
Featured Product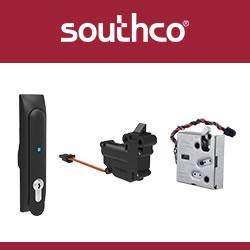 Many robotics engineers need to securely mount and latch sensitive electronic components in their robotics applications; Southco is able to help reduce theft and vandalism with our proven and reliable access technologies. Learn how Southco can help secure your robotics, or other smart city application, from theft and vandalism.