Doodle Labs releases new interference-avoidance features for drones, ground robots and connected teams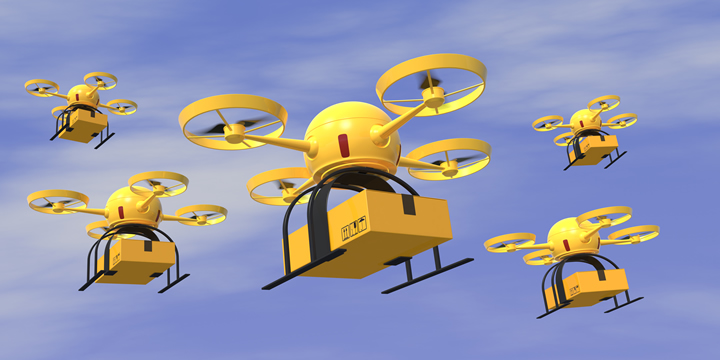 Doodle Labs is pleased to announce the release of 'Sense', a new feature-set for its multi-band Mesh Rider Radios that addresses the challenges of interference for long-range, mission-critical robotics and connected teams applications for a more resilient datalink.
Dismounted connected teams and advanced robotic systems like drones and uncrewed ground vehicles regularly encounter signal interference in the field that threatens connectivity and hinders performance. This can include interference from WiFi devices in urban areas or active jamming attempts in the field of battle. Lapses in connectivity can interrupt the transmission of critical payload like video or scan data or even command-and-control of a robotic system.
Doodle Labs' patent-pending Sense technology is engineered to actively monitor in-band interference and automatically switch channels or frequency bands to find the best-performing frequency. This feature-set ensures uninterrupted communication and enhances the operational efficiency of these advanced systems in the fields of defense, public safety and commercial industry.
Sense, along with patented multi-band technology, realizes the full potential of packing multiple frequency bands into a single radio. Multiple frequency bands not only facilitate global deployment in areas with differing legal frequency allocation, but now also significantly expands the radio's ability to avoid interference or jamming by utilizing all available spectrum with multiple frequency bands.
Sense is an advanced feature that will be available as a firmware upgrade to all Doodle Labs Mesh Rider Radio customers.
How Sense Works
With Sense activated, Mesh Rider Radios scan for interference and background noise across all frequency bands. Once the node on the network is deployed into the field (whether it is a UAV, UGV or connected team-member), Sense continually monitors the health of its datalink signal. If the datalink starts to experience significant interference, Sense automatically shifts to a better-performing channel with the current band or to a different band altogether, maintaining connectivity and optimizing performance during the mission.
Commercial Applications
For commercial customers like drone and UGV OEMs, Sense offers an enhanced ability to operate in densely populated, and RF noisy urban environments.
While it's been challenging to provide reliable, long-range communications in urban environments in the past, Sense allows commercially-focused platforms to seamlessly avoid interference from the myriad of common WiFi and other electronic devices.
Defense Applications: Battle-tested Reliability
Sense is battle-tested in challenging environments in Ukraine, where it's helping to avoid interference caused by active jamming.
UKRSPECSYSTEMS, A Ukranian OEM actively supplying Ukranian defense forces with its UAVs, has reported transmitting HD video from behind enemy lines over 80 km using Doodle Labs' Mesh Rider Helix Radios with Sense functionality.
The government and defense-focused Helix Doodle Labs Mesh Rider Radios were developed with sponsorship by the US Department of Defense's Defense Innovation Unit for its Blue UAS program. Helix variants are available in a variety of licensed multi-band frequency combinations specifically suited for government use.
About Mesh Rider
Mesh Rider is a powerful patented mesh wireless broadband technology designed for mobile use-cases. Its innovative waveform provides a reliable, low-latency, high-throughput datalink over long distances.
Mesh Rider Radios are offered in a multiple use-case optimized form-factors and are actively deployed in industrial uncrewed aerial vehicles, ground robots, warehouses and with connected teams in the defense, industrial and public safety sectors.
About Doodle Labs LLC
Doodle Labs designs and produces industrial-grade wireless networking solutions. The company focuses on mesh networking for robotic systems, providing high throughput, long-range Mesh Rider solutions for UAVs, UGVs, AMRs, connected teams, government/defense, private wireless and other applications. The company's Helix Mesh Rider Radio was developed with sponsorship from DIU and is the Blue UAS program's datalink of choice.‥‥‥
Doodle Labs was founded in 1999 and has offices in the United States and Singapore. For more information, visit https://doodlelabs.com
Comments (0)
This post does not have any comments. Be the first to leave a comment below.
---
Post A Comment
You must be logged in before you can post a comment. Login now.
Featured Product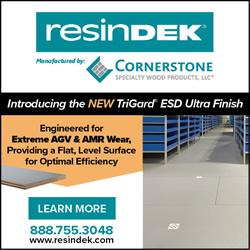 To maximize the productivity of an autonomous mobile robot (AMR) or automatic guided vehicle (AGV) deployment, it's critical to create the optimal environment that allows the vehicles to perform at their peak. For that reason, Cornerstone Specialty Wood Products, LLC® (www.resindek.com) created the TriGard® ESD Ultra finish for its ResinDek® engineered flooring panels. The TriGard ESD Ultra finish is ideal for high-traffic robotic applications characterized by highly repetitive movement patterns and defined travel paths.